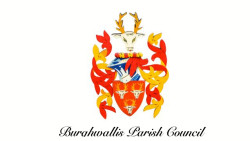 ADVANCE NOTICE: ANNUAL PARISH MEETING
The Burghwallis Annual Parish Meeting will take place on Tuesday 15th May at
The Burghwallis Public House, commencing at 7.00 pm.
This meeting is open to all residents of the village and consists of a brief report by the Chairman of events and achievements over the last year and plans for the forthcoming year. Residents will have the opportunity to ask questions of and make suggestions to the Parish Council. All will be welcome. We hope that as many people as possible will attend, as the views of residents are important to the Council.
If you can't make this date you can submit ideas and observations to the the Parish Council in writing or email to clerkburghwalliscouncil@talktalk.net
Your input is vital in order that the actions of the council can follow the overall thoughts and wishes of the village. This is your chance to stand up and be counted.
Dave Maxwell
Chairman of the Parish Council