Ongoing editions of the church magazine can now be found in the blog section of the website.
---

Letter from Father Richard. November 2018
November is a month of poignant commemorations. It begins with the feasts of All Saints and All Souls when we remember those who have died. In church we shall be holding a Memorial Service on the 4th for all those for whom we have taken the funeral of a loved one during the past six months. But our thoughts this year are dominated by the commemoration of the Centenary of the end of the First World War.
Some would argue that the end of conflict brought an unjust peace which sowed the seeds for the Second World War just twenty years later. I belong to a generation in which my great grandfather fought in the Boer War, my grandfather in the First World War and my Father in the Second World War. Growing up there was always somewhere in the back of my mind the thought that surely my time would come and I would be called up for the next conflict. I am deeply grateful that this has never been the case.
But we live in a world in which peace is fragile and in which warcontinues to be fought out in many different ways. From the uniformed armies of nations and the asymmetric warfare of terrorists,to the push-button attacks of cyber conflict the world is rarely at peace.
Those of you who have listened to Handel's Messiah will remember those words chosen by his librettist Charles Jennens from Psalm 2:
Why do the Nations so Furiously Rage together…?
There is expressed in the words of the psalmist the sense of God's exasperation with the peoples of the earth. They way in which we speak of peace and yet are forever at war. We in Europe have had a relatively long time of peace since 1945 but this is to forget the long years of the Cold War and the many wars fought by proxy beyond our borders.
The best memorial we can make to those who died in the First World War is to strive that their sacrifice may not have been in vain. That we may have finally learned the lessons of the past and not repeat the mistakes that have been made. To give to our children and grandchildren hope for the future and the gift of peace.
Fr Richard
---

Letter from Fr Richard October 2018
Celebrating the Harvest
[four_fifth_last][/four_fifth_last]We are fortunate to live in rural parishes which means that we are not so divorced from the annual round of ploughing, sowing growing and reaping. I am always rather pleased to know that some of the frozen potatoes I buy in the supermarket have been grown in the fields of our parishes.
We can see that the long hot days have meant that that this year the harvest has been early so our celebrations seem a little late this year. The more observant of you reading last month's Parish Magazine will have noticed that I got the date of the Harvest Evensong wrong. This has now been corrected:-
9.00am Sunday October 14th
HARVEST Festival
St Helen's Burghwallis
Although Harvest Festivals are a significant feature of worship in the Old Testament indeed, the Festival of the First Fruits was celebrated at the beginning of the Harvest and then seven week later the Festival of the Grain Harvest was celebrated when all had been safely gathered in.
In the church of England, Harvest Festival is a relatively recent phenomenon beginning in 1843 in Morwenstow in Cornwall when the Rector – the Revd Robert Hawker – invited his parishioners to church to celebrate the harvest. I suspect that before this the church had steered clear of Harvest celebrations so as not to invite confusion with previous pagan festivals.
It is good to remember the care we have for the natural world and the part we play as stewards of God's creation. We are much more aware these days of the need to care for the planet as we have seen how the land, the air and the oceans have all been affected by humankind's impact upon the environment.
We are also aware of the interconnectedness that our modern society brings. A by-product of the difficult discussions about BREXIT has been the increased knowledge we now have about the complex nature of supply chains. I was reading how the crankshaft of a Mini crosses the channel three times during its production: it begins with its raw manufacture in France and then is shipped to the UK for finishing and then shipped to Germany for fitting and assembly. The car is then shipped back to the UK for sale.
I suspect that the potatoes I saw grown in the fields have also made a long journey before they finally appeared in the supermarket freezer cabinet. The work of many hands to grow, harvest transport and sell.
This harvest give thanks for all God's gifts and pray for everyone whose labours have brought food to our tables and who supply our need. May we give thanks for the harvest. A grace I often use goes like this:
Almighty Father,
Bless this food to our use,
Our live to your service,
And make us ever mindful
Of the needs of others.
AMEN
---
Letter from Fr Richard
September
2018

A Growing Season…
You have probably that as the seasons change so do the colours of the church hangings and vestments. For the past few months – and up until November – the predominant colour in church has been green. It is the colour we use during the season of Trinity which lasts from Pentecost to Advent. This is the longest season in the church calendar when we can settle in to letting our faith mature and develop through the year – growing along with the crops in the fields.
Of course, this year has been marked by a long hot summer in which our lawns have looked brown rather than green. I had a meeting in London on the day of the Centenary of the Royal Air Force so I was able to take in some of the sights: the bands in the Mall and the amazing spectacle of the flypast.
But everything was dry. As I walked through Green Park I noticed how much of it was not green but parched and dusty. It made me think of those times in our lives when our faith can seem parched and dry, when we need to be fed and watered by God's word. When we need to grow a little rather than lie dormant.
While we were on holiday we visited the local parish church in the village where we were staying in the South of France. It was the Festival of St James who happens to be the patron of the parishchurch and so there was a festival for the whole village. It was one of those events in which everyone seemed to come from central casting: the priest was tall, thin and ascetic like a medieval saint and he preached a fine sermon. The village band turned up who looked and sounded like extras from Clochmerle. The Mayor spoke a little too long and we all sang the Marseillaise. Knowing we are English the band even played a few bars of God Save the Queen especially for us.
It was a lovely way of marking the day and of marking the Church year. It made me think about how we have marked our own patronal festivals in May (St Helen) and July (St Mary Magdalene) which we did with great joy but with the feeling that too many of our communities were absent.
Do make an effort, in the coming months, to come to church. There are services in each parish every week so you really have no excuse. Do not let your faith become dry and parched but nurture it and nourish it and draw deep upon the well of scripture so that, in this growing season, it may grow and flourish.
Fr Richard
Letter from Fr. Richard June 2018

An Outward and Visible Sign of an Inward and Spiritual Grace.
Those of you who have been confirmed may think back to the time of preparation when you were asked, 'What is a sacrament?" the answer is in the headline for this month's letter: An Outward and Visible sign of an Inward and Spiritual Grace.
We usually apply this to the two sacraments of the Lord: Baptismand Holy Communionbut also to those other five actions we commonly refer to as sacraments: Confirmation, Marriage, Confession, Ordination, Anointing the Sick. Of course, Jesus himself is the perfect example of a sacrament; revealing in human flesh and blood the divine nature of God.
But for all of us there will be those sacramental moments when the ordinary things of life reveal – perhaps only for a moment – the closeness of God. When Jacob awoke from his dream in which he had a vision of heaven he felt that the place he had slept was special:
And Jacob awaked out of his sleep, and he said:'Surely the LORD is in this place; and I knew it not.'
And he was afraid, and said:
'How full of awe is this place! this is none other than the house of God, and this is the gate of heaven.'(Genesis 28.19)
Celtic Christianity has that sense of special places where heaven and earth seem very close. They call these thin placesbecause it seems that we sense the presence of God particularly strongly there.
I remember once asking a woman if there had ever been a time when God felt very close to her. She thought for a while and then, rather embarrassed said, "Well! there was that time I saw Jesus in the kitchen." A reminder that the age of visions is still with us!
There will be times when you have felt God's presence particularly closely. It may have been in church – after all people have been praying in our churches for over 1000 years – but it may have been in the countryside, or the garden, lying in bed, or just doing the washing up.
Treasure those moments of certainty. Know that sometimes in the outward and visible things of this world we sometimes glimpse a greater glory and feel a greater love.
May God bless you in the thin places of your life.
Fr Richard
The Diary of the Vicar's Apprentice.
Well it's been a busy and very quick 1styear as a curate.
First, a big thank you to everyone who has made me feel welcome through the year and continues to support me.
I have had a great time, learning new skills, including Baptisms and funerals. See pictured my first baptism selfie, which have become quite popular.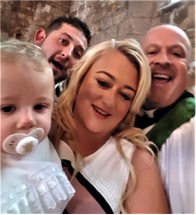 I have officiated at many funerals during the year, most have been people I have known through church or I have taken home communion to over the years. This has been a humbling experience but has also given me peace. The circle of life you could say. It inspired me to write my own wishes down for my funeral, ensuring I have said those things I wish to say to my family & friends as I move on in my journey. Try it, it's very satisfying.
Father Richard has continued to be wonderful in explaining all the things I need to know. With snippets of Greek, Latin and Aramaic, I feel like I have my own oracle. In return I continue my deacon role (carer), ensuring each service is set up and ready.
Well on the 30thJune 2018 I will be Priested, Bishop Peter officially confirmed this to be his wish, so my journey continues.
My first communions will be on Sunday 1stJuly, at St Helen's Burghwallis, an early service at 8am and then 11am at St Mary Magdalene, Campsall. I believe the choir will be taking part, so if you can, come along. I will try not to make too many mistakes, plus Father Richard says he will deacon for me on this day, so that could be fun.
Thank you again for listening to my rambles and I promise I won't leave it as long this time before writing again.
God Bless
Fr Chris
---
Letter from Fr. Richard May 2018

May the Force be with you!
The month of May this year has two major festivals: on the 10th is the feast of the Ascension followed ten days later on the 20th by Whitsunday. These are both important and interrelated events in the life of the church.
The Ascension marks the time forty days after the resurrection when Jesus leaves the disciples to return to his father in heaven. For those who were witnesses it was both upsetting and miraculous. In the Book of Acts which was compiled by St Luke as a companion volume to his Gospel we hear of Jesus being lifted up and being hidden by a cloud. The disciples who witnessed this were awestruck – the stood and gaped at where Jesus had gone and have to be told by two angels: "Men of Galilee, why do you stand looking up towards heaven?"
The message of the angels is essentially to tell them get on with the job in hand. But you can't help feeling some sympathy for the disciples who had got used to Jesus being around – able to answer all their questions, able to be the living proof of the resurrection. So, there is that sense of loss as Jesus leaves them but also the sense of awe in the manner of his going.
So, what must they do? The first thing is to appoint a replacement for Judas which they do by choosing Matthias. And they continue meeting. And it is while meeting that they experience the coming of the Holy Spirit while they are together on the day of Pentecost – 50 days after the Passover.
This is a transforming experience. They discover that God is present with them. They do not need to keep having one to one chats with Jesus because they experience the presence of God's Holy Spirit within each of them; giving them confidence and power to spread the Gospel.
Pentecost – which we call Whitsunday – is regarded as the birthday of the church because from that point onward it stopped being insular and inward looking and was empowered to take the word of God out into the whole world.
That first gift they experienced was of speaking in tongues. This wasn't just ecstatic babbling but an ability to speak and be understood by all people across the world. It showed that God's concern isn't just for a few but for everyone from every nation and language.
When you wake in the middle of the night and feel called to pray it is the Holy Spirit within you that gives you the words to say and directs your thoughts to God. St Paul speaks of our bodies as Temples of the Holy Spirit. This means that, through his spirit, God dwells within each one of us. That is how close God is to us. Do not resist the power of God within but be receptive to it. Let it conform your will to the will of God.
In the Star Wars films there is that quasi-religious concept of The Force which the Jedi have in abundance and everyone else doesn't –so unlike the church.
In the Communion service I say, "The Lord is here!" and the response is, "His Spirit is with us." God's Spirit is for everyone to strengthen, comfort and empower us. It is what unites us as the church. Jesus has returned to his father in heaven, but his spirit is with us now. Listen to that voice within of God calling you to himself and be guided and encouraged by it.
Fr Richard
---
Letter from Fr Richard April 2018

Happy Easter!
Spring seems to have been a long time in coming. The winds from Siberia brought a sharp cold snap and lots of snow: a final bout of winter. Despite all this the snowdrops are in abundance and the daffodils are putting on their usual brave show. There is a sense of awakening in the air – a time of rebirth as Spring finally makes an appearance.
A few weeks ago, Ann and I spent our day off with the Yorkshire Philosophical Society looking for fossils in Lincolnshire. It was interesting to see how these long-dead organisms had been preserved in the layers of ironstone for millions of years. We could see in the layers of rock how the geological strata had been built up and how our bit of the world had changed its climate and geography many times over those years. Each movement of the stones revealed a new shell or told a new story.
This Easter we only look back 2000 years to the events when the rolling away of a stone revealed the greatest event in human history. Early that first Easter Morning the women went to the tomb to anoint the body of Jesus with perfume and spices: to give him the decent funeral he had been denied.
But they found the stone had been rolled away and the tomb was empty – the empty earth only magnified their sorrow. But it is Mary Magdalene who becomes the first witness to the resurrection in that simple exchange of words with the risen Jesus he calls her name, "Mary!" and she responds with acknowledgement and joy, "Master!"
In those two words the world is changed. Jesus is risen from the dead so that we might rise from the dead. And it does not end there; Jesus was seen by many people and spent forty days teaching the disciples who were transformed by the experience. This collection of men and women from Galilee were changed from being crushed and defeated to being confident and empowered to go out into the world. Every disciple went out to preach the Good News of the resurrection of Jesus; all were convinced of what they had seen and experienced to the point that nearly all gave their lives for the truth of what they had seen.
May we live our lives in the confidence and hope that is given by the risen Jesus.
Alleluia – Christ is Risen!
He is Risen Indeed – Alleluia!
Fr Richard
---
Letter from Fr Richard March 2018

Lent is here!
I hope that you had a good Shrove Tuesday and have recovered from a surfeit of pancakes. We began the season of Lent on Ash Wednesday with the traditional service of ashing. Before this service some of the palm crosses from last year had been burned and turned into ash and the ash mixed with holy oil to make a paste. During the service those who were there – myself included – were marked on the forehead with the sign of the cross in ash. While this was being done these words were said:
Remember that you are dust and to dust you shall return.
Turn away from sin and turn to Christ.
These are rather sombre words but they remind us both of our own mortality and the need to try to live better lives.
We did this in the context of the Holy Communion service from the 1662 Prayer Book which had a beautiful solemnity about it which helped us focus on the task ahead for the next forty days.
Lent is the traditional time for fasting and penitence to prepare ourselves for the great celebration of Easter. Generally speaking we give something up which is not a bad thing since it helps us to focus upon the meaning of the season. Every time you feel the craving for something it becomes a little reminder of the need to amend our lives through prayer.
Of course, its not just about giving things up we should also strive to do something to bring us closer to God. On Sunday afternoons I am running a course looking in which we look at the Holy Land both in terms of Jesus' life and also in terms of our contemporary concerns. You may use the time to read a good book or to pray in a more focused way.
During this time we are running a course for those to be confirmed at Campsall on the 18th of April. This is a time when, as adults, we make a commitment to uphold the promises that were made on our behalf at our baptism. It promises to be a joyful service when churches from the deanery come together.
Our choir is currently practising music for our services at Easter which is a great delight. St Augustine is attributed as saying, "He who sings prays twice." I think by this what is meant is that there is prayer in the words we say but also in the emotions we feel as we sing.
Lent is a wonderful time of preparation, do use it wisely.
Fr Richard
---
Letter from Fr Richard February 2018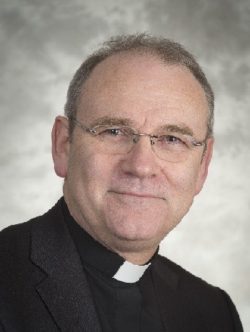 Candlemas is coming!
This month begins with Candlemas on the 2nd of February then leads on to Shrove Tuesday on the 13th of February to be followed by Ash Wednesday on the 14th before Lent begins which will take us right through March.
Candlemas is the time when we remember the Presentation of Christ in the Temple forty days after his birth. This is a wonderful part of the Gospel which has as two main characters Anna and Simeon. These are both elderly people: Anna is 84 and Simeon is told he will not die until he has seen the Messiah.
This story is a testimony to the wisdom that comes with age. Both Simeon and Anna have long lives to look back on and can take the long view. It also means that when they see the baby Jesus presented in the Temple they are certain who he really is. Anna's response is to praise God but Simeon imparts some troubling news to Mary; he tells her that 'a sword will pierce your own soul too.'
We have the wisdom of hindsight, we know where this will lead and that Mary will witness her own son's death on the cross. But here it seems to put a bit of a dampener on things. Mary will carry this thought of future sorrow with her throughout her life.
But why 'Candlemas'? Traditionally this is the time when the church blesses the candles that are to be used through the year. Candles are a redundant technology for us and yet they seem more popular than ever. Shops have aisles devoted to them and they come in all shapes sizes and scents. Clearly, they speak to us as more than just a source of light.
The presentation of Christ in the Temple brings the season of Epiphany to an end – it is a final reminder that Jesus is the light of the world. A light that is given to a darkened world to give hope and peace but also to illuminate the dark corners of our lives. People often light candles in church when they say a prayer; perhaps in memory of a loved one who has passed away or as a means of expressing the things they cannot say in words.
A candle is an eloquent expression of our hopes and fears and like our lives it burns brightly for a while but then is gone. For me there is the sense that our prayers continue when we have left the building. God listens and hears even when we are not there.
So, as we look towards Lent we have this last opportunity to rejoice in the coming of Christ into the world as the light of the world. Light a candle and say a prayer as you begin to look in upon your own life; shining a light in those dark corners that need to be swept clean. Be reminded that, in a dark world, the light of Christ shines on to give us hope and confidence for the future. A prayer for Candlemas:
Almighty and ever-living God, clothed in majesty, whose beloved Son was this day presented in the Temple, in substance of our flesh: grant that we may be presented to you with pure and clean hearts, by your Son Jesus Christ our Lord, who is alive and reigns with you, in the unity of the Holy Spirit, one God, now and for ever. Amen.
May God Bless you,
Fr Richard
---
Letter from Fr Richard January 2018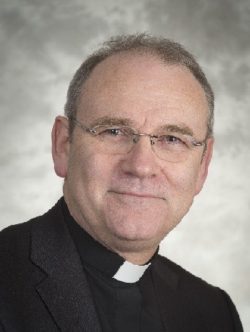 When I was growing up we used to get two comics delivered every week. One was the 'Victor' which was full of stories from the Second World War and had heroes in it such as Morgan the Mighty who was the strongest man in the world and lived – like Tarzan – in the African Jungle or the working-class hero Alf Tupper – The Tough of the Track whose match day preparation usually involved a trip to the local fish and chip shop. The other comic to fall on our doormat was the 'Beano' with its cast of characters which included the Bash Street Kids.
What I liked about the Beano at this time of year was that, whatever the actual weather had to offer, its masthead and pages would be decorated with a seasonal fall of snow. Even the backgrounds to the stories which were a depiction of Dundee, the town where it was published, would take on a winter wonderland appearance.
There was a feeling that the Beano in particular was keeping in step with the changing year. Marking the turning point of the year and making me feel part of a bigger picture that I was sharing with everyone else.
Perhaps the change of the year is a time to feel nostalgic – looking back with yearning to safer, more comfortable times. But, of course, memory tends to rub out the difficult times or paint the past with the rosy glow of hindsight. As a friend of mine who was a museum director used to joke, "Nostalgia isn't what it used to be!"
But this is also a time to look forward to the coming year. We never know what is around the corner so we can approach the new year excited by new possibilities or fearful of potential threats.
In first century Palestine there were many who expected the end of the world to be just around the corner but Jesus spent a lot of his time telling his disciples that no one knows when this will be. This means that, we should be just as prepared for the end of the world tomorrow or a thousand years in the future. It is a good message not to be oppressed by our fears for the future but to do all we can to live our lives as fully as we can in the present – carpe diem – seize the day!
My prayer for this New Year is that, with God's help we might have the strength and resolution to face adversity when it occurs but that we should celebrate each day as a unique gift from God, never to be repeated and never to be wasted.
May God's blessing of peace be with you in the coming year.
Fr Richard
Retreat 2018
5th, 6th and 7th of June
Once again, we shall going away to join the nuns of the Order of the Holy Paraclete at St Oswald's Pastoral Retreat Centre at Sleights near Whitby.
We shall arrive mid-morning on the 5th of June and leave for home after breakfast on the morning of the 7th. It is an opportunity to have quite time, some study perhaps even with some craft activity in the beautiful North Yorkshire countryside.
During our retreat we join the nuns for their pattern of daily prayer and worship.
For details on cost and how to book please contact Joyce Holmes (01302 725747). Before the end of January.
---
United Benefice of St Helen, Burghwallis
With St Mary Magdalene Campsall
Letter from Fr Richard December 2017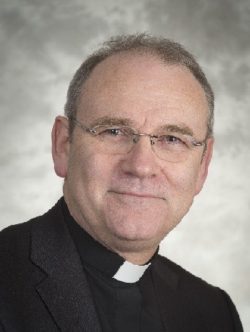 A Happy Christmas to you all!
I've always worked in jobs where you have to plan ahead. When I was school teacher I was conscious that, although the school year would begin in September there was always an eye towards Christmas and the celebrations that would bring the Autumn term to an end.
When I was a university academic there was a constant round of planning for new courses or projects often looking months or years ahead. And of course, in church we spend our time looking forward to the next season. Christmas is hardly upon us and I am already beginning to plan for Lent and Easter.
A by-product of all this planning is that it can rather ruin the festivities; because you are never truly in the moment, never truly experiencing the celebration because you know that things need to be got ready for what comes next.
This Autumn has been particularly beautiful. I have found driving up the A19 has been truly breath-taking with the trees arching over the road glorious with reds and golds and greens. Because our garden is surrounded by trees it has meant I have had to go out and clear away piles and piles of leaves. Actually, I have rather enjoyed doing this – its good to have a simple job which has a beginning and an end where the fruits of your labours are easily seen and where you also get a bit of fresh air and exercise. It is good to be in the moment.
This month begins with Advent: the weeks of preparation leading up to Christmas. It is a time of looking forward; of getting ready for the coming of Jesus at Christmas. Often, we expend all our energy in this run up so that Christmas Day itself is a bit of an anti-climax – just a brief pause before the start of the Winter sales.
We should all pause to look around and enjoy the moment –Carpe Diem – Seize the day! I have promised myself not to be grumpy or cynical this year when I see Christmas trees put up too early or hear the latest Christmas single played endlessly in the shops. But rather to try and enter into the spirit of happiness and rejoicing that comes with Christmas.
I look forward to seeing many of you in Church over the coming weeks as we tell again that simple story of the baby born in a stable in Bethlehem and remember this was how God chose to enter the world to draw each one of us close to him.
A Christmas Blessing…
May the joy of the angels,
The eagerness of the shepherds,
The perseverance of the wise men,
The obedience of Joseph and Mary,
And the peace of the Christ-child
Be yours this Christmas…
May God bless you all,
Fr Richard
---
United Benefice of St Helen, Burghwallis
With St Mary Magdalene Campsall
Letter from Fr Richard November 2017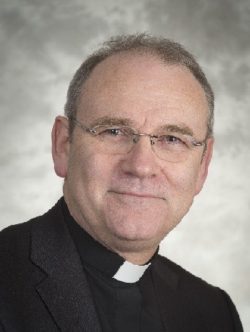 Remember, Remember…
Last year I ordered a set of postcards with religious pictures – icons – on them. With them came a small laminated card with a picture of the resurrection on one side which has a tiny square of fabric held within it. The text of the card was in Russian which was a bit of a problem since this is not a language I speak. However, with the aid of Google Translate I was able to work out the gist of what it was telling me. Apparently, the fabric was from a cover that had been used in the Holy Sepulchre in Jerusalem and so was a kind of relic. This card sits on my desk and is a reminder of that holy place and the time when Ann and I visited there on pilgrimage.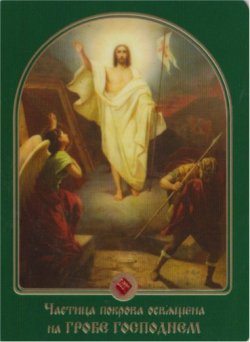 2017 is the Centenary of the Revolution in Russia that swept away the Tsar and brought the Bolsheviks to power. In the aftermath of this the Church in Russia and Eastern Europe was persecuted and religious faith was suppressed. A time when many died for their faith. I remember, in the early 1980s, praying for Christians in Russia, never suspecting the tremendous changes that were to take place. But our prayers were answered.
This time of year, is a time of remembering: November begins with the festivals of All Saints and All Souls when we remember those who have died in the faith of Christ. And then, of course we have the poignant time of Remembrance Sunday when we shall remember the sacrifice made by so many during times of war and conflict.
The BBC is currently running a drama series leading up to the commemoration of the Gunpowder Plot. There has been much debate about the terrible things it shows in which religious and political conflict led to torture and execution of people for their faith. Amidst the fireworks and sparklers take time to remember these things in the hope that we shall not be foolish enough to repeat the mistakes of the past.
At 4.00pm, on the 5th of November at Campsall church, we shall hold our Memorial service when we shall remember all those for whom funerals have been taken in the last six months along with others we are asked to remember. We do this twice a year: now at All Souls when the church remembers all who have died; and again, at Easter when we remember Christ's triumph over death. The Triumph which my little Russian card celebrates.
It is important not to forget.
Remember in your prayers:
those whom you have loved,
those who have suffered and given their lives for their faith
those who have suffered and died in war and conflict.
I pray that you may use this time well calling to mind the souls of all the departed in your prayers.
May God bless you,
Fr Richard
Services for Advent and Christmas 2016
5th November
Memorial Service
Campsall 4.00pm
12th November
Remembrance Sunday
Norton 10.00am

Campsall Cemetery 10:20am

Campsall Church 11.00am

Burghwallis 12.45pm

3rd December
Service of Light*
Burghwallis 4.00pm

10th December
Taizé Service

Campsall 4.00pm
9th December (Saturday)
Christmas Tree Lighting at the War Memorial
Burghwallis 6.30pm
11th December

(Monday)

Carols and Mince Pies
St Michael's, Skellow 7.30pm

17th December
Traditional Carol Service
Campsall 4.00pm
Christmas Eve
Holy Communion

Holy Communion

Christingle and

Crib service

Burghwallis 9.00am

Campsall 11.00am

Campsall 4.00pm

Midnight Mass
Burghwallis 11.30pm

Christmas Day
Holy Communion
Campsall 9.30
* A Joint Anglican / Roman Catholic Service.
United Benefice of St Helen, Burghwallis
With St Mary Magdalene Campsall
Letter from Fr Richard October 2017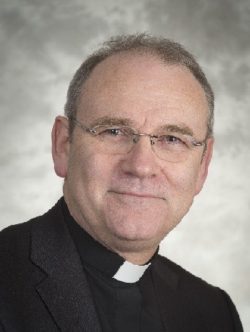 I have notices how the shops are beginning to put their Autumn / Winter Collections on show. It is a reminder that the nights are beginning to draw in and that there is a bit of a chill in the air.
The beginning of October marks our Harvest Festivals at Burghwallis and Campsall. It has a very traditional feel this year.
On Sunday October 1st Campsall will celebrate at the 11.00 Family Service; then, on Thursday 5th there will be a special evensong service at 7.00pm followed by Pie and Peas at Campsall Church.
On Sunday 8th at Burghwallis will be a Harvest Celebration in the 9.00 service.
So, there is plenty for you to go to and join in the celebrations.
Harvest Festival was reinvented in the Church of England 1843 by the Reverend Robert Hawker invited his parishioners to a special service of thanksgiving at the parish church of Morwenstow in Cornwall. Although, of course, the celebration of harvest has been around for millennia. In the Old Testament we read of a people who were close to the land and who were thankful for the Harvest. Psalm 67 evokes this spirit of thanksgiving:
The earth has yielded its increase;
God, our God, has blessed us.
May God continue to bless us;
let all the ends of the earth revere Him.
It is more important than ever to be aware of the stewardship God has given us for the care of the land. Despite increases in population we can produce enough to feed everyone but, sadly, we do not share our food as we should; which is why we still see famine in some parts of the world while at the same time we destroy food through over-production and waste.
It is our duty to care for those in need which is why we shall be collecting dried and tinned food for the homeless together with toiletries and other supplies.
In the middle of our celebrations of Harvest is the Feast of St Francis of Assisi. St Francis is often regarded as the most Christ-like of all the saints. He gave away his personal wealth to feed the poor and worked hard to build up the church to reap the harvest of souls. He was also strongly aware of God's love and care for His creation. In praise of God he wrote the hymn The Canticle of the Sun. We sing a version of this at harvest: All Creatures of our God and King. The last verse of which says this:
Let all things their Creator bless
and worship Him in humbleness,
O praise Him! Alleluia!
Praise, praise the Father, praise the Son,
and praise the Spirit, Three in One:
O praise Him, O praise Him!
Alleluia! Alleluia! Alleluia!
May we, this Harvest-tide praise God and give thanks for his creation and may we learn to be better stewards of all that has been placed into our care.
May God bless you,
Fr Richard
---
United Benefice of St Helen, Burghwallis
With St Mary Magdalene Campsall
Letter from Fr Richard September 2017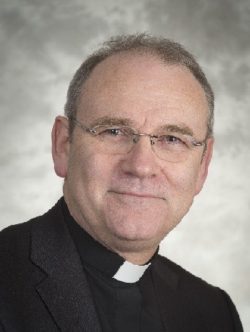 We recently visited our daughter who lives in Grimsby. As a little a treat we went to the local pub for tea. It was very nice but I was a bit surprised to see them setting up a display asking patrons to 'Book Early for Christmas'. August seemed rather early to be thinking about Christmas. But now we have reached September; there are conkers on the trees, the leaves are beginning to turn, children are returning to school and the nights are drawing in. So, we can be forgiven for looking forward to the coming autumn and winter days.
The same is true for the church. We have begun to plan our special services for Harvest, Remembrance, Advent and Christmas. The choir is beginning to rehearse the music; so on Thursday evenings we are beginning to hear those familiar and evocative tunes that tell us that the year is changing. St Augustine is quoted as having said, "qui bene cantat bis orat" – who sings well prays twice. There is some doubt where he said this but he certainly wrote in the spirit of this to remind us that singing is a joyful act of praise. I am not sure even have to sing well!
If you would like to join us on a Thursday evening between 7.00 and 8.45 please come along – you would be most welcome. You don't have to be able to read music. Our choir is made up from members of the churches at Campsall, Burghwallis and Owston and has been growing of late as we help each other out at weddings and special services.
There have been some encouraging signs in our churches. Clearly, we have regular baptisms, weddings and confirmations. It is also good to hear our bells being rung regularly now that we have a shared team with Adwick-le-Street. These are all important traditional signs that the church is alive and well in our parishes.
Of course, we also have the regular round of funerals when many people come into church or have a service at the crematorium and hear the central message of the Christian faith which is that death is not the end. This is a message of hope that through Jesus death is conquered and the promise of eternal life is held out to all of us.
September is often a time when people take stock of their lives and take on new things. It is my prayer that you may see this as a time to return to the church that has never gone away and is still always there for you.
May God bless you always,
Fr Richard
---
United Benefice of St Helen, Burghwallis
With St Mary Magdalene Campsall
Letter from Fr Richard August 2017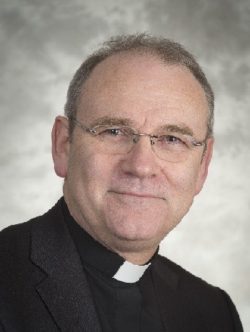 Sometimes life seems to imitate art. You can probably all remember the episode of The Vicar of Dibley where the Revd Geraldine is invited to a series of Christmas dinners by each of her parishioners. Of course, not wanting to offend, she attended all of them. My particular memory is off her trying to stuff sprouts into her already full mouth.
Fr Chris and I had a slightly similar experience when we attended both the Burghwallis Family Fun Day and the Campsall Country Fair which were held on the 16th of July.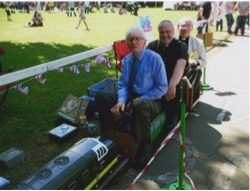 I was rather worried that the clash of dates might be a problem but this didn't seem to be the case in that both events proved to be both well-attended and very successful.
As you can see from the photo, Colin Bowes took both clergy for a ride on his model Deltic Diesel (British Rail Class 55) at Squirrel Wood while, later in the day, we were able to bless the refurbished bridge in Campsall Country Park (See Chris's Letter for details).
It was a delight to take part in the Proms in the Park – a particularly encouraging sign was that both events had their own bands! Indeed, the whole day demonstrated to me the strength of our communities and a rediscovery of the importance of village life for which I feel we are truly blessed.
With every blessing
Fr Richard
The Diary of the Vicar's Apprentice.
Well it's been a busy, yet exciting, month for me. Firstly, I would like to thank everyone for the cards, presents and encouraging words on my ordination. The service was wonderful, especially seeing people from both churches, along with family and friends.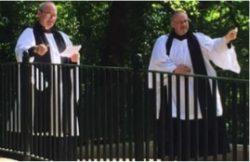 After the ordination service there was time for photos, of which there were many, some I hope to find and print out for everyone to see. One of the photos taken of Huw Thomas, Director of Education for the Sheffield Diocese, and myself ended up in the Church Times and I can now say I have been a 'page three' boy in the newspaper.
I was also asked to film an interview for the Diocese. In it I speak of how the first few verses of Ephesians 4 had an impact on my thoughts at the start of my Curacy. Paul talks about his thoughts on starting in leadership, saying,
"I therefore, the prisoner in the Lord, beg you to lead a life worthy of the calling to which you have been called, 2 with all humility and gentleness, with patience, bearing with one another in love, 3 making every effort to maintain the unity of the Spirit in the bond of peace".
These words really helped me set my mind and helped me in my first few days as a curate.
With such a busy ordination weekend, I had booked the Monday and the Tuesday off, for a rest!! However, Revd Richard gave me the wonderful opportunity to go visit the junior and infant schools in Norton, meeting children who were very excited to be going on a school trip. I also saw a master in action, within two minutes of Revd Richard spotting the School dinner trolley, I found myself sat down with Spaghetti Bolognese in the staff room, talking with the teachers.
I also visited a lunch group at The Burghwallis and had a discussion with some German visitors in Burghwallis churchyard.
Tuesday found me co-leading a funeral at Campsall church, a first in my ministry. It was both peaceful and heart-warming to celebrate someone's life in the church, before moving to Pontefract crematorium for the final ceremony.
Having the opportunity to spend those two days in the community really helped me feel that I am now a curate and I thank Richard for his time and forethought.
Since then I have been on a funeral visit and was able to take time off work to lead the funeral and burial at Campsall cemetery, another first. I have spoken at both churches and I am slowly getting used to my new role at the altar. Though you just might still see Richard, myself and servers doing a 'liturgical dance' sometimes, as we figure things out!
I had the opportunity to use one of my gifts from the churches, namely my "aspergillum", according to the Revd Richard; I call it a water sprinkler, when we blessed the bridge at Campsall Park. We managed to visit the Burghwallis and Campsall fetes in the same day, lots of fun to be had and food. With, Revd Richard, again showing his experience, spotting a kitchen selling beef burgers at the Burghwallis event and then I spotted a Jamaican food stall at Campsall Park.
Near the end of my first month we went continental, with an English/Spanish wedding and a Taize service at Burghwallis. Many thanks to those who supported me in these events, especially the choir who pulled it out of the bag once again.
If you read further into Ephesians 4 you will find verses that promote leaving your childishness behind and being more mature in your standing. I will of course need support as I develop this in my ministry, however, 'being myself' through my ministry, I hope, we will also include a few laughs along the way.
God bless,
Fr Chris
If you feel you need another instalment from the diary of the "vicar's apprentice" please let Richard or myself know.
---
United Benefice of St Helen, Burghwallis
With St Mary Magdalene Campsall
Letter from Fr Richard July 2017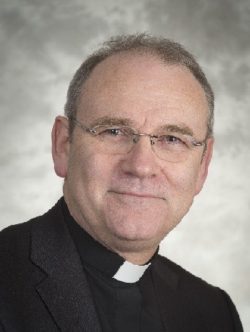 July has become a rather historic month for our parish: we are to have a curate. As far as I am aware this is the first curate either parish has had certainly in living memory so we can feel justifiably excited by the prospect.
Usually when a curate comes there is a great deal of curiosity about this new person in the parish but, of course, for us this is not the case because The Revd Chris Herbert has been a member of our church for many years and with his wife Christine have both exercised a much-valued lay ministry. But that does not mean that things will be as they always have been. Chris joins us initially ordained as a deacon and then next year he will be ordained as a priest.
I would like Chris to tell you about his journey to this point and the change it has meant for him so I hope that, once he has got his feet under the table, he will be able to write to you all and speak for himself.
The Church of England has the historic threefold ministry of Bishop, Priest and Deacon. We have also just received a new Diocesan Bishop – The Rt Revd Pete Wilcox who has joined us from Liverpool where he was formerly Dean of the cathedral. There has been much controversy in recent months about this appointment but now that Bishop Pete is with us we can welcome him to the diocese with warmth and genuine support and look forward to where he will lead us.
The word Bishop is derived from the Greek word episcopos which means overseer. It is the most ancient of the church's orders because this was the role that was given to the leaders of the early church – the apostles – as they oversaw the leadership of the church. Even when the church was small it soon became clear that Bishops could not do it all themselves and so some of the most trusted members of the church were made deacons. The word deacon comes from the Greek word diakonos which means servant. The first deacons were there to support the bishop particularly is serving the poor and needy. The first Christian martyr – St Stephen – was a deacon which shows the commitment and centrality of this ministry.
So, what about priests? Where did they come from? As the church grew there was need to have more people who would take on some of the bishop's role of leadership. So these were chosen from the elders of the church the presbyteroi. This is why all priests are also deacons and why, when Chris is ordained priest next year he will not cease being a deacon in the same way that a bishop never stops being a priest and a deacon.
All this means that we shall be able to see in the flesh the threefold ministry of bishop, priest and deacon – overseer, elder and servant. Neither should we forget the ministry that is exercised by those who have not been ordained – those who bishops and priests and deacons are called to serve and who day by day through their acts of love and service, worship and welcome build up God's kingdom here in this place.
We pray for Christopher as he begins this new stage in his life and ministry. Pray also for Christine as she takes up the role of clergy spouse. I was one myself for a number of years and, speaking from experience, it is not always easy.
Our prayer are also with Bishop Pete and his family and with Revd Chris and his family as they embark upon and exciting phase of their lives in service of us and in service of God.
May God bless them both.
Fr Richard
---
United Benefice of St Helen, Burghwallis
With St Mary Magdalene Campsall
Letter from Fr Richard June 2017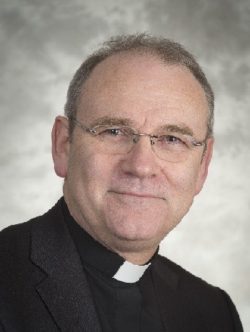 June is that time of year when I feel I have just about got used to the New Year when I realise that it's almost half over. We were planning our church music for the coming months and realised that we were looking forward to Harvest and Christmas already. I suppose the church helps us to mark the passing of time.
I like the way in which the Church Year not only makes holy – hallows – each day as it passes but gives us a focus and reminder upon the life of Jesus with the passing seasons marked with their colours. The year begins in Advent (Purple) with the preparation for the coming of Jesus at Christmas (White or Gold), we see the revelation of Jesus to the world at the Epiphany (White) before embarking upon the days of Lent (Purple) spent with Jesus in the wilderness before the solemnity of Holy Week (Red) and the crucifixion (no decoration) and the joy of the resurrection at Easter (white).
We have just celebrated an important feast: The Ascension (White) as Jesus leaves this earth to return to his father in Heaven and now, this month, Pentecost (Red) – Whitsuntide – when we remember the gift of the Holy Spirit to the church. After that will come the long growing season of Trinity (Green) as we concentrate upon our lives as Christians building upon all we have learned and experienced.
Pentecost is regarded as the birthday of the church because it marks the time that the apostles felt the Spirit of God descend on them like flames of fire to strengthen and empower them to go out into the world and spread the Good News of Jesus' resurrection.
The Holy Spirit is the third person of the Trinity. It is the most immediate and personal of our encounters with God because it is the God we feel within. The presence of God we sense when we feel drawn to pray. It is the power of God that gives us courage to do things we never thought we could do.
And then, the week following Pentecost we celebrate Trinity Sunday when we reflect upon the fullness of God as Father, Son and Holy Spirit. The Holy Trinity reminds us that there is no aspect of our lives, which is absent from the presence of God. God is our creator – the one who is over and above us – but who, in his Spirit dwells within us to strengthen and empower us. In Jesus God stands beside us as one of us to show us that as he overcame death we too shall overcome death.
The Christian belief in the Trinity expands our understanding of the one God through each of the ways we encounter him. We in our human limitations are able to glimpse something of his glory, something of his mystery and love.
At this the middle of the year be conscious of the time that is passing and how God has come near you today.
Fr Richard
---
United Benefice of St Helen, Burghwallis
With St Mary Magdalene Campsall
Letter from Fr Richard May 2017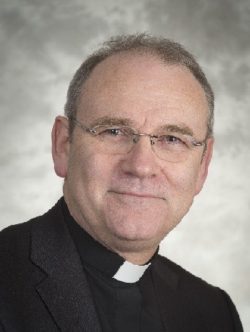 I was standing in the garden recently when I heard a low rumble in the distance. I looked up and, much to my surprise, the Red Arrows flew over in formation. It was an inspiring sight: bright blue sky and the sunlight glinting off the red paintwork of the aeroplanes as they passed overhead.
Even when they had gone I still stood looking up, hoping that they might come back. Later on, I looked at the Red Arrows website which showed me that they were on a training flight and would be returning to base by a different route. But it was still a magnificent start to the working day.
On Thursday 25th of May the church celebrates the Feast of the Ascension. It is the end of the forty-day period which follows Easter. During this time, the risen Jesus taught his disciples – preparing them for the time when, as apostles, they would go out into the world to change peoples' hearts and lives.
In the Book of Acts, St Luke tells us that the disciples saw Jesus taken from them into heaven as he was covered by a cloud. Of course, they just stood there looking up until two angels in white spoke to them and said, "Men of Galilee, why do you stand looking up towards heaven?" They then reminded the disciples that the time would come when Jesus would return in clouds of glory.
I can understand that the disciples stood there dumbstruck gazing up into the sky hoping for one last sighting of Jesus. But, they needed to be reminded that there was work to be done. In those forty day Jesus had not only confirmed that he had risen from the dead but had spent time getting them ready for the next phase of the work which was to look outward to the world to spread the good news to all people.
I am always amazed by what the disciples achieved in such a short time by going out into the world. Through them the church has grown to become the largest world religion – not through violence and conquest but by the gentle preaching of the Word changing hearts and minds.
When the Red Arrows flew over I could have spent the rest of the day standing in the garden looking upwards in the hope that they might come back. But, actually, I had work to do and had to return to do that which I have been trained for.
There are times in our lives when something important happens and we feel so overwhelmed that we can be frozen in the moment – unable to move forward. It is good to be reminded that the message of the angels was to tell the disciples to stop looking at the sky but to return and get on with the job they have been trained to do. They had seen the risen Jesus and needed no further proof – what they must do now it to put into practice all he had taught them. This often meant facing trials and danger but they were prepared to do this because of what they had seen and had experienced.
May we never be afraid of taking a step into the unknown but to do so with confidence that, through his Holy Spirit, God is with us in all we do – but more of that next month.
May the Risen Jesus bless you,
Fr Richard
Usual pattern of Sunday Services
in the Benefice –
St Helen, Burghwallis
9.00 Holy Communion except on the
first Sunday in the month (said) at 8.00 am
SUNDAYS IN MAY/JUNE
7th May 4th of Easter 8 am
14th May 5th of Easter 9 am
21st May 6th of Easter 9 am
28th May 7th of Easter 9 am
4th June Pentecost 8 am
11th June Trinity Sunday 9 am
READERS / SIDESPERSONS
7th May Irene Trenbirth-Smith /Joyce Holmes
14th May Sharon Hammerton /Mike Hammerton
21st May Anthony Williamson /Olwyn Sanderson
28th May Jill Nicklin /Colin Bowes
4th June Howard Gee /Lynda Needham
11th June Pat Stanley /Shirley Gill
The churchwardens would like to be kept up to date with people and happenings that you feel might concern the vicar.
The churchwardens are:-
Mr M Hammerton Tel 721933
Mrs S. Gill Tel 700057
Priest in Charge of the United Benefice of Burghwallis and Campsall –
Revd Dr Richard Walton, The Rectory
Village Street, Adwick-le-Street
DONCASTER DN6 7AD
Dr Walton will be in Campsall Church every Thursday evening between 6pm and 7pm to discuss arrangements for baptisms and weddings. Enquiries regarding funerals may be made to the Rectory at Adwick
Tel 723224 – email: richard.walton@sheffield.anglican.org
EASTER FLOWERS
The Easter flowers were beautifully arranged by Pat Stanley and her cousin and are still looking quite fresh. Thank you to them both, and thank you everyone for your generous donations towards the cost of those flowers. We had a full choir for Easter Sunday morning thanks to our friends from Campsall and Owston and we then all went to sing at Campsall at 11 am and at Owston at 4 pm.
PARISH REGISTER – HOLY BAPTISM
SUNDAY 30TH APRIL – Abbie Francis Williamson
A warm welcome to little Abbie who is the sister of our youngest server Aaron.
SOCIAL & FUND RAISING NOTES
Wednesday Lunches:
The next two lunches are 31st May and 28th June. Why not try lunch at The Highwayman (Highfields Roundabout) at 12noon. They have a good choice of food, including a carvery, and choice of sweet. See Mike & Sharon who do the booking for 12 noon.
CHRISTIAN AID COFFEE MORNING IN CAMPSALL CHURCH
SATURDAY 13TH MAY 10 am – 12 noon
BRING & BUY STALL, CAKE STALL
BOOKSTALL, RAFFLE ETC.
THIS IS OUR ANNUAL EVENT TO SUPPORT THIS CHARITY IN CHRISTIAN AID WEEK. Please give your support for the stalls, we need raffle prizes, home baking, books, etc, but above all please come! ENVELOPES FOR ANY DONATIONS WILL ALSO BE AVAILABLE IN BOTH CHURCHES
FUTURE EVENTS
TWO IN HARMONY – Philip Mindenhall and Brenda Wade will entertain us again with a concert in St Helens Church on Saturday 19th August. Full details and programme will be available soon.
A GARDEN EVENT is also in the pipeline for July.
If anyone else has any bright ideas, ie quiz night, Beetle Drive, Silent Auction?? please let us know. We will also be arranging the Autumn Fair at the Burghwallis, and Carols and Mince Pies as last year at St Michaels, Skellow in December.
SOCIAL & FUND RAISING NOTES
Wednesday Lunches:
The next two lunches are 31st May and 28th June. Why not try lunch at The Highwayman (Highfields Roundabout) at 12noon. They have a good choice of food, including a carvery, and choice of sweet. See Mike & Sharon who do the booking for 12 noon.
BURGHWALLIS EVENTS COMMITTEE
A Fun night Saturday 3 June 2017 at THE BURGHWALLIS 7pm
Lots of fun for all the family, Pie & Peas, Fun Quiz etc etc
Live Music by Mark Elliss – Ticket £6 includes Prize draw
Tickets on sale at The Burghwallis or please call Diane on 725998 or Email dezard@hillcrest08.plus.com
Help us make this night a great success as all monies raised are in support of the Family Fun Day at Squirrel Wood on 16 July
---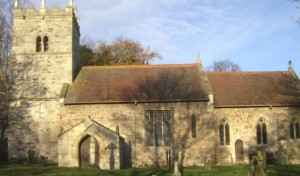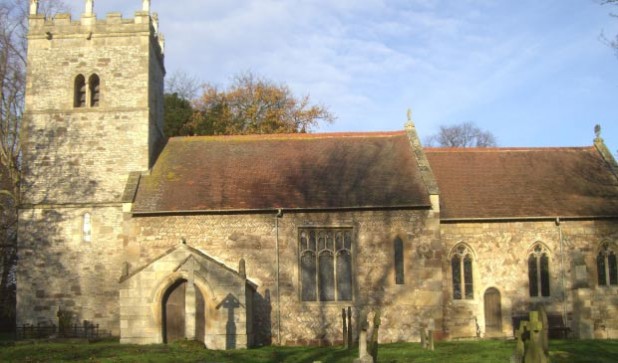 United Benefice of St Helen, Burghwallis
With St Mary Magdalene Campsall
Letter from Fr Richard March 2017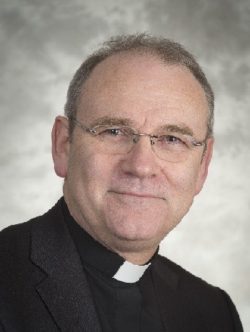 The season of Lent has now begun. I wonder if you have made any decisions to give something up for Lent. I once asked a colleague what he was giving up, "Halves!" he said. I think he was joking.
Something's are easier to give up than others. Sometimes we try to give things up to achieve another purpose – I shall be trying – again – to lose some weight over Lent. As part of this I am trying to stop eating snacks and to eat more fruit instead – so it's not just a matter of not doing something but of doing something positive as well. It a way of putting a little bit of discipline back in my life. I shall also be doing some lectio divina – some spiritual reading. The book I have chosen is St Augustine's Confessions. I have read it before but I feel it needs another visit. It was written in the 4th Century but has a surprisingly modern feel in that he is telling the story of his own conversion. It is refreshingly honest. It contains that well-known phrase:
'As a youth… I had prayed to you for chastity and said, "Give me chastity and continence, but not yet."'
There is much honesty in this. We often want to give up or change behaviours that we know are not good but we are often so tied to them that we say to ourselves, "I'd like to change, but not yet."
It is a not uncommon sentiment, people often tell me that they will be coming to church when they retire. But then they allow life to get in the way and it becomes an unfulfilled intention.
Lent for us models Jesus' time spent in the wilderness. Last year we visited the Judean Wilderness and we were struck with how close it is to Jerusalem – it felt like it was just over the hill – and how barren it was; a Lunar landscape of broken stone. It is very arid because it is in the rain shadow so that Jerusalem to the west gets all the rain and the desert doesn't.
However, if you follow the old road from Jerusalem to Jericho you will come to a deep ravine – dark and shady but where springs supply flowing water. It is a dangerous place where robbers could hide but it is also a place of refreshment and sustenance. It reminded us of the words from Psalm 23:
Yea, though I walk through the valley of the shadow of death, I will fear no evil: for thou art with me; thy rod and thy staff they comfort me.
There are times in life which can feel like a perpetual Lent; when we are troubled and afraid and darkness seems to surround us. Lent helps us to see through the difficult times in life towards the promise of Easter and of Jesus' triumph over death.
Use this Lent well to journey with Jesus through the wilderness facing temptations and overcoming them. Be strengthened for the journey ahead.
Have a holy and blessed Lent in preparation for the joy of Easter.
Fr Richard
MARCH 2017
EASTER FLOWERS
Easter lilies and other flowers are always expensive at this time so any donations towards these would be welcome. Many thanks. Joyce.
PARISH REGISTER
FUNERAL 11 February 2017
Gwendoline Mary Dimon, aged 85
Funeral Service in Church followed by burial in the churchyard now reunited with her husband Stanley.
MAY SHE REST IN PEACE
AND RISE IN GLORY
SOCIAL & FUND RAISING NOTES
Wednesday Lunches:
The next two lunches are 29th March and 26th April. Why not try lunch at The Highwayman (Highfields Roundabout) at 12noon. They have a good choice of food, including a carvery, and choice of sweet.
Not many suggestions yet for fund raising events but Christian Aid Week falls on 14th to 20th May and we are hosting a United Benefice Fund Raising event in Campsall church. There will be a Cake Stall, Bring and Buy, Bookstall and Raffle etc. Also tea and coffee etc. Please support this in any way you can. We need donations of raffle prizes, home baking etc.
John Locker R.I.P.
John and Yvonne lived in Burghwallis and took an active part in church activities, being on the PCC and John was in the handbell team. They have been living in Alderney for a number of years. Sadly John died on 15th February and Yvonne has asked us to remember him in our prayers.
_______________
BURGHWALLIS & SQUIRREL WOOD SCOUTS
FAMILY FUN DAY – 16TH JULY 2017
The Burghwallis Events Committee is looking for stalls and performers etc to take part in their Family Fun Day to be held at Squirrel Wood Campsite between 12.30 and 16.30 on Sunday 16th July. If you are interested in having a stall, or know anyone else who would like to participate in any way, please phone Diane Ezard on 01302 725998 or email dezard@hillcrest08.plus.com
___________________
Home Instead Senior Care
Hello, I'm Robert Moore from an organisation called Home Instead Senior Care and we specialise in caring for those living with dementia. I will be sharing some useful advice for those of you caring for someone with a dementia. It is essential to change the ways in which you care for the person in order to maintain their (and your) quality of life. Putting yourself in their world, rather than trying to bring them back into ours, will give you the opportunity to be a much more effective caregiver.
1. Redirect: Changing the topic of conversation, if your relative or friend asks the same question multiple times, for example, can stop unhelpful thought patterns.
2. Apologise: Simply saying "I'm sorry, I misunderstood you" and taking the blame, even when something is not your fault, can often calm down the individual if they are distressed.
3. Remove: Removing distracting and or harmful things from the individual or removing the individual from a situation or environment which is distressing or angering them will help them to remain calm and content.
4. Simple choices: Individuals with a dementia often feel like they have lost control of their lives and so giving them simple choices, like "Would you like tea or coffee?", will help them to feel more in control and, in turn, happier.
5. Engage: Engaging in basic mental, physical and social activities has been shown to decrease stress and anxiety for people with dementia.
It may take various attempts and approaches before these techniques become truly effective. If a technique does not work first time, it is best to take a step back and try again a few minutes later, taking a different approach.
If you would like any more help or advice on caring for someone with Dementia please contact Home Instead Senior Care on 01302 369655
Robert Moore
Usual pattern of Sunday Services in the Benefice –
St Mary Magdalene, Campsall
11.00 Holy Communion,
First Sunday in the Month
11.00 Family Service.
St Helen, Burghwallis
9.00 Holy Communion except on the
first Sunday in the month (said) at 8.00 am
The churchwardens would like to be kept up to datewith people and happenings that you feel might concern the vicar.
The churchwardens are:-
Mr M Hammerton Tel 721933
Mrs S. Gill Tel 700057
Priest in Charge of the United Benefice of Burghwallis and Campsall –
Revd Dr Richard Walton, The Rectory
Village Street, Adwick-le-Street
DONCASTER DN6 7AD
Dr Walton will be in Campsall Church every Thursday evening between 6pm and 7pm to discuss arrangements for baptisms and weddings. Enquiries regarding funerals may be made to the Rectory at Adwick
Tel 723224 – email: richard.walton@sheffield.anglican.org
SUNDAYS IN MARCH/APRIL
5th March Lent 1 8.00 am
12th March Lent 2 9.00 am
19th March Lent 3 9.00 am
26th March Lent 4 Mothering Sunday 9 am
2nd April Passion Sunday 8 am
9th April Palm Sunday 9 am
READERS SIDESPERSONS
5th March Alistair Owens / Lynda Needham
12th March Mike Hammerton / Sharon Hammerton
19th March Pat Stanley / Anthony Williamson
26th March Jill Nicklin / Olwyn Sanderson
2nd April Anthony Williamson / Kathleen Cooper
9th April Colin Bowes / Joyce Holmes
---
JANUARY 2017
United Benefice off
St Helen Burghwallis
with St Mary Magdalene, Campsall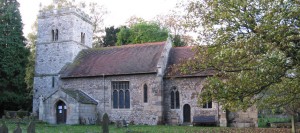 A Happy New Year to all our readers
Years ago when I was a regular reader of The Beano I remember that at this time of year the title page would be decorated with snow to give the impression that we were all submerged in a winter wonderland. More often than not there was no snow and I would be reading in bright winter sunshine. For me it was one of those things that marked the changing of the year along with adverts for holidays with Hoseason's and Butlins on TV.
The change of this year has left me feeling a bit unsettled. Like many people I am not sure where Brexit is leading us, nor am I confident that the inauguration of President Trump will bring increased world harmony. I suppose it is uncertainty that makes me look at the coming year in this way. Perhaps we like to have a plan – a sense that we know where we are going. My favourite quote from the news this year was the politician who mixed up his words and proudly announced, "Breakfast means Breakfast." Although I suspect he was more inclined towards a Full English rather than anything Continental.
The beginning of the year is always a time to look forward. For some of you there will be significant life events coming up: moving house, a change of job, a new baby, getting married. For others, there will be the anxiety of illness or difficult relationships or the loss of a loved one. The future is always uncertain, particularly as we stand at the threshold of the year; but we should never be fearful. The great evangelist Dr Billy Graham once said, "I've read the last page of the Bible. It's all going to turn out all right." Which is a rather wonderful statement of confidence in God's plan and provision for each one of us and which should act as an antidote to any feelings of fear or anxiety as the new year begins.
When we look at the Bible, particularly the Old Testament we do get a sense of the grand sweep of history as viewed through the lens of the people of Israel. The Old Testament tells the story of a people making the transition from being a group of largely nomadic tribes to living in towns and seeing the land itself as sacred. But we also see in their lives the ups and downs of their changing relationship with God; times of closeness, times when they turned away, times of reward and times of punishment.
But, in the New Testament we see revealed what it all means. In Jesus, God is made man to dwell in Palestine; fulfilling the words of the law and the prophets. That constant striving to be right with God that is described in the Old Testament is fulfilled in the coming of Jesus, as God stoops down to be one with us, so that at the last we are united with him.
So, do not fear whatever the New Year may bring. Hold fast with confidence to the faith which draws you ever closer to God.
In 1936, which was a much darker time for the world than the present, Irvine Berlin wrote these very famous words:-
There may be trouble ahead But while there's moonlight And music and love and romance Let's face the music and dance
I like the mix of realism and optimism in these words that; whatever difficulties the future may bring there will always be those things that we can celebrate. Our Christian faith is one such thing. It is my hope that in the coming year you may learn to celebrate with the joyful dance of faith.
Happy New Year Fr Richard
THANK YOU
On behalf of myself and the PCCs of Burghwallis & Campsall, I would like to thank everyone who worked so hard to make our Advent and Christmas Services such a success this year. Both churches looked lovely as they were decorated for the season. It was good to see so many people coming to church for the services held, also we hosted the Norton Junior School carol service as well as welcoming pupils from Campsmount.
The joint services with our Roman Catholic friends at Burghwallis and then at Our Lady of Perpetual Help in Bentley were a living testimony to our increased closeness and desire to work together.
I feel that I must make special thanks to the choir and music team who worked so hard to provide such a high standard of diverse music for all our services. It was good also that we have been able to work with the choir members from All Saints, Owston. We are currently thinking about music for Easter and would welcome anyone who feels that they would like to join us.
HELPING WITH THE PARISH MAGAZINE
I am still appealing for volunteers who can give some time each month to ensure the magazine continues. We are currently considering producing a single larger magazine to cover both parishes.but clearly this will need a bigger team.
For more details please email me (r.j.walton94@gmail.com) or give me a ring on 01302 723224.
SUNDAYS IN JANUARY/FEBRUARY
Reader Sidesperson

8™ January Baptism of Jesus Pat Stanley Anthony Williamson
15th January Epiphany 2 Jill Nicklin Olwyn Sanderson
22nd January Epiphany 3 Mike Hammerton Sharon Hammerton
29th January Epiphany 4 Anthony Williamson Colin Bowes
5th February 4th before Lent Irene Trenbirth-Smith Joyce Holmes
12th February 3rd before Lent Sharon Hammerton Mike Hammerton
19th February 2nd before Lent Howard Gee Shirley Gill.
CHURCH FLOWERS
Joyce would like to thank all those who donated towards the cost of Christmas flowers and those who helped to decorate the church. Thank you also to Kathleen and Lynda for putting up the tree. The church looked beautiful for the Carol Service.
A LITTLE LAUGHTER Grannie?
A little boy came home from Sunday school and informed his mother that his teacher was Jesus' grandmother. Astonished, the mother demanded: What on earth makes you think that? "Easy" said the little boy, "she never stops talking about Jesus".
REMINDER:-
There will be a meeting of Burghwallis Parochial Church Council on Tuesday 10th January at? pm.
Details of our giving to Charities this Christmas are as follows:-
CAROLS & MINCE PIES raised £200 and this was divided between -Doncaster Cancer Detection Trust; Sight Savers International; Missions to Seafarers and the Church Housing Trust.
Basket at back of church for Water Aid – this totalled £185.
Donations instead of sending cards – this amounted to £90 and it was shared between Bluebell Wood Children's Hospice and the M25 Project.
SOCIAL & FUND RAISING NOTES
WEDNESDAY LUNCHES
The next dates for lunch at the Highwayman will be> 25th January, 22nd February and 29th March.
Anyone is welcome to join us at 12 noon, and thanks to Sharon and Mike, this raises a small amount each month for church funds which adds up over the year.
The fund raising Committee will meet this month to plan the coming year's social events, and we would welcome any new fund raising ideas.
SUNDAY SERVICES
Normal Sunday Service times are as follows:-Holy Communion (sung) at 9.00 am except on the first Sunday of every month when Holy Communion is said at 8.00 am.
Any variations to the above will be shown on another page.
CHURCHWARDENS: Mr M Hammerton on 721933 and Mrs S Gill 700057
PRIEST IN CHARGE OF THE UNITED BENEFICE OF BURGHWALLIS AND CAMPSALL;-
Revd Dr Richard Walton The Rectory Village Street, Adwick le Street, Doncaster DN67AD Tel 723244
WEDDINGS AND BAPTISMS
Please see Dr Walton during his office hour from 6-7 in Campsall Church every Thursday.
Enquiries regarding funerals may be made to the Rectory at Adwick, Telephone 723224
[divider][/divider]
Notices From The Church Magazines
Wednesday Lunches
The next dates for lunch at the Highwayman will be:-
25th January, 22nd February and 29th March
Anyone is welcome to join us at 12 noon, and thanks to Sharon and Mike. this raises a small amount each month for church funds which adds up over the year. The fund raising committee will meet this month to plan the coming year's social events and we would welcome any new fund raising ideas.
MIKE's FILM EVENING
The result of this was £97.50 which includes a generous donation from a lady who was unable to attend. Michael Heath very kindly gave his time and put his expertise before us with a very interesting and amusing evening. He showed a series of films put together of the congregation and visitors in the convent grounds at the Summer Fayre and winter evenings enjoying supper in our dear old church hall before the land was sold, reminding us of former days and of the wonderful talent we had in our congregation. To see Matthew Trenbirth and Ron Cooper playing and singing and Lucy Tagg enacting John Betjeman's poem of "The Church Mouse" recalled a memorable Harvest Supper. We also want to thank Joyce Holmes and her team of helpers for providing and preparing welcome refreshments, especially the hot cups of tea and coffee. The second half of the evening included a special treat showing Derek Hodgson (Freda's husband) conducting part of Stainer's Crucifixtion in St Giles Church Pontefract during Holy Week; and Michael disclosing a secret or two of the film makers art. Thank you to all who made the evening so successful – June K. Roberts
FUTURE SOCIAL EVENTS
GILL'S TEA AND COFFEE AFTERNOON WEDNESDAY 7TH DECEMBER £1
Gill Piper invites us to 43 Mill Lane, Skellow from 2.30 to 4 pm. There is a bring and buy stall and raffle. Proceeds to the Church repair fund.
CAROLS AND MINCE PIES AT ST MICHAEL'S, SKELLOW – MONDAY 12TH DECEMBER AT 7.30 PM

Come and enjoy singing popular carols for everyone. Admission £2.50 includes coffee/tea and lovely mince pies. All proceeds are sent to our Christmas charities.
DONATIONS INSTEAD OF SENDING CARDS
Joyce has been collecting our donations and we have had a good response so far of £80. Final total will be given in January with details of where sent.
Happy Christmas from the Social & Fund Raising Committee. We will get our thinking caps on next year for some new ideas.
Burghwallis Pub Luncheon Club

Join us for lunch at our friendly pub, make new friends, take part in games and much more. Selection of 2 course lunch available – main course and dessert including tea or coffee £5.25 per person.
The Burghwallis Luncheon Club meets fortnightly on Mondays with full disabled access and free parking. No need to come alone, come and have lunch and meet new friends in lovely surroundings.
To let us know you are coming and to reserve your lunch booking please telephone 01302 723398
Future dates for the Burghwallis Luncheon Club please see section on Burghwallis Public House