Geography
Burghwallis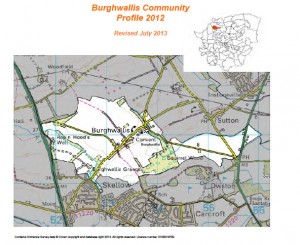 A relatively small village and a civil parish in the heart of rural South Yorkshire.  The village is situated amongst mixed farmland and woodland on a slight rise roughly six miles north north west of Doncaster or 1 mile off the A1 motorway.
The parish has a population of 268 over 18 year olds and includes a village pub, a former Convent now St. Anne's Nursing Home, St Helen's Church, a children's playing field, a War Memorial, Village Pump, Poor Field  and  Pinfold site.
History
The Village, originally called Burg, as shown in the Doomsday Survey. The first mention of Burgh-Wallis is Sir Richard le Waleys, presenting a new rector to the church in 1253.   In contrast with most of the villages surrounding Doncaster, very little in the way of residential development took place in Burghwallis during the 19th and 20th centuries. Today the village is one of a handful in the area to have retained much of its original character and has a very peaceful small-scale rural feel.