The Plague Well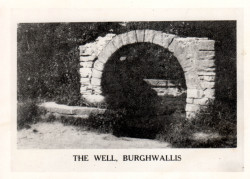 The Burghwallis 'Plague Well", marked by the stone, was situated on the stream that runs in front of you along the Abbe's Walk, the running water from the stream constantly refreshing the well. The Plague Well was most likely in use in 1349 at the time of the early plague known as the 'Black Death' that killed 30-50% of the country's population. It originally had a stone roof with seats and probably was in existence at the time of the great plague of 1665. In prehistoric times, springs, bodies of water and wells were considered as religious sites.
Outbreaks of plague were a scourge of medieval England and one reason for these wells was to allow villagers to cleanse their coinage in running water, to be then left at the well in exchange for produce and goods left by tradesmen.
The arch and canopy over the Burghwallis Well was of a style used in Roman times and prolific in Britain from medieval times onwards. It is believed this Well may have been built at the time as St Helen's Church and could therefore have been regarded as a 'Holy Well' dedicated to St. Helen.
Although restored circa 1800 the structure of the original 'Plague Well' decayed over the years with the final remnants of any useful stone being removed some years ago.
A plaque and lectern has been added to the site in the approximate position of the original plague well with the picture kindly replicated by Mr Royce Dunnill. Father Richard carried out a ceremony on the 5 May 2016 to bless the site.