Rita Brewin – Funeral August 3rd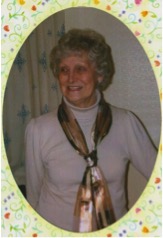 Many of you will remember Rita Brewin who served the church at Burghwallis for many years. Sue, her daughter, has sent in this Tribute:
Rita's family and friends gathered at Burghwallis Church whilst the choir sang at her funeral. Rita was born on April 9th 1929 and grew up at 'Braeside', Five Lane Ends, Skellow. She was the youngest of 7 children: Eric, Dick, Arthur and Lilly Holmes, She went to Green Land and Adwick Schools and loved to be active and busy. After leaving School Rita became a tailoress at the Co-op in Doncaster, making her own wedding dress as well as the groom's (Ron's) suit. She also worked as a Home Carer for many years. Rita belonged to a keep fit group and remained active until her illness.
With her late husband Ron she enjoyed caravan holidays in Hunstanton with her two children Sue and the late Ray. Her grandchildren – Nicola, Robert, Paul and Lisa loved her sense of fun and spent happy times by the sea there. Rita loved all her family – enjoying visiting and spending time with them.
After the funeral family and friends gathered at 'The Burghwallis' to remember the many happy occasions spent together over the years. Rita will be remembered for her kindness and generosity – for her sense of independence and spirit. She was a loving wife and Nanna. She was a wonderful Mum who will be sadly missed. Sue