Great North Run 9th September 2018
Father Chris Herbert, curate at St Helen's and his wife Christine recently took part in the Great North Run from Newcastle to South Shields. Here is his story behind the scenes.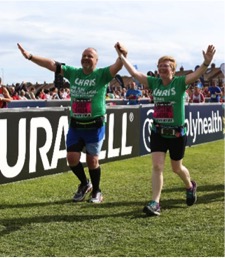 We decided to take part in this half marathon in memory of Sharon Robson, who battled breast cancer for several years and passed away on 11th September 2017, so were running almost exactly on the anniversary of her death, and in support of Macmillan Cancer Support. Andrew, Sharon's husband, also decided to run, and was supporting Breast Cancer Care.
The day of the Great North Run started off for us with an instant porridge and granola before setting out and walking to the start. The atmosphere was building up, even at 9am, and we found our starting place passing a variety of people in fancy dress – Mario, batman, numerous fairies with hairy legs and we even found 'Wally' several times! We started our run in the rain and with an optimistic mindset, and this continued over the Tyne bridge with the red arrows flying overhead. However, it was an unusually hot day, and as the miles went by, and the heat increased, it took its toll a little and the aches started – it seemed a long road to the coast at South Shields. But we were enticed along the way by numerous sweets, fruit, drinks, beer and pies, and helpful children kept us cool with hosepipes or just squirting us with bottles of water (perhaps the only day they wouldn't get told off!) We reached the finish line soaking up the atmosphere and thankful of the support from the crowds all the way. After collecting our medals, it was wonderful to meet up with Andrew, Alan, Shirley and family at the end.
Sharon was in our hearts and minds throughout the day, and we are thankful to everyone who has donated to Macmillan Cancer Support or Breast Cancer Care and also for the support and encouragement we have received. Over £3,600 has been raised between the three of us for these two charities to help find a cure for cancer. A good way to remember Sharon.