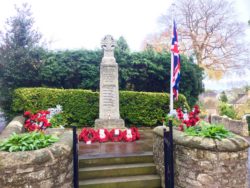 For the first time in living memory a member of the public (other than the usual officers) laid a wreath this year at the village War Memorial.

The annual remembrance ceremony held this year on Sunday, 12th November 2017, commemorated those who died in the First and Second World Wars (and other conflicts). This year John Cocking laid a wreath from the Cocking family in memory of Joseph Duggan. Joseph, a resident of Burghwallis died in the First World War, and whose name is amongst those listed on the War memorial.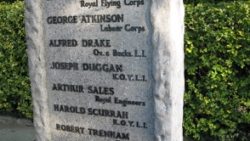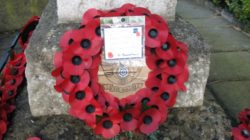 Joseph Duggan
Joseph was in the King's Own Yorkshire Light Infantry ( KOYLI) He was brought up and 'illegally' adopted by John's great-grandmother, a common occurrence in those days. He lived in Burghwallis and was a regular worshipper at St. Helen's Church.
Scant further details are currently known about Joseph. He was working in Denaby on the 1911 census but was living in Burghwallis at the time of his war service. His occupation is listed as "Coal Miner". Further details of the history of the KOYLI can be found in the Doncaster Museum
Details of the war memorial's listed structure can be found here