Most people celebrate their 70th birthday with a nice meal with family and friends, or a holiday to a special place – a nice relaxing occasion to mark this milestone. Not so for one of our village residents, Trevor Bayley. He decided to climb Mount Kilimanjaro, at 19,335 feet above sea level, Africa's highest mountain!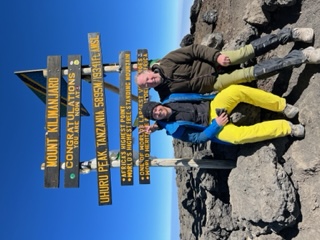 Having had a "practice run", by climbing Mount Kenya, a mere 17,000 feet, on the occasion of his 65th birthday, Trevor decided to go one better, 5 years later, by going for the biggie! Also in the party on this occasion were his two sons, Bertie and Angus, whose job was to keep Trevor motivated and in good spirits for the climb, so it could still be described as a family affair. Of course, none of this would have been possible without the professional support team, who provided guidance and reassurance during the climb.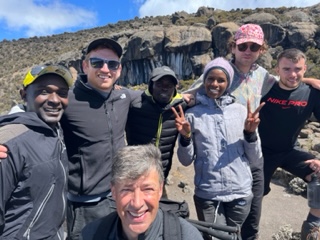 Although both of his sons suffered the effects of altitude sickness, and had to be rushed down to a safer altitude, Trevor suffered no such problems.
What an achievement! – we mere mortals salute you, Trevor.
Can anyone cap that?