The ancient Saxon cross that stands outside the south door of St Helen's is to be refurbished after years of attack from the elements.
Just get on with it I hear you say, but the cross is a grade 1 listed structure and in a churchyard so an entirely different set of rules and permissions apply. Brexit negotiations have nothing on this procedure.
The detail would have you running for the hills, maybe even have you watching box sets of Big Brother to offset the trauma. The graded status requires permission to contemplate what is required. A duty of care for our ancient Saxon church. It's a safeguard to stop anyone slapping a right dollop of polyfilla in the hole as the repair, and then claiming it was an external grade filler in mitigation. The cross support has also suffered from expansion damage due the metal bar that pierces the cross, which by the way, no one has an inkling of its original use. A suggestion it might have been to clip your dog lead to was treated with scorn, but one can try.
And the approval process begins. What you want to do, and why and with what and with whom and how much, a few 'are you for real' moments and 28 days of public awareness and submissions to diocesan committees, bishops and a few members of royalty and off you go. Assuming that by now you can still recall what you set out to achieve.
Thus a stone mason has been appointed to remove the cross bar, saw out the damaged section of the cross support and install a new block of sandstone. There is also some wind erosion around the top element of the cross which is work in progress.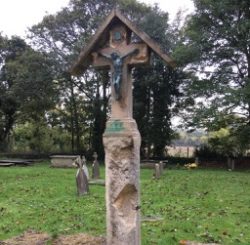 And round the corner the stone mullions around the vestry door have had a right clout from the elements. Some have been replaced and the others seen in the photo show the work that is still on the things that need doing list. But as they say Rome was not built in day.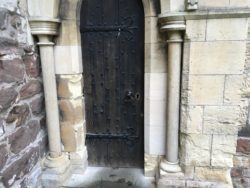 Vestry door
Erosion damage to the left hand side of the vestry door. Repaired stonework on the right