For years we have been reporting issues involving fly tipping, the bane of the vast majority of villages and towns in the UK. As yet no effective measures have been established to control this anti-social behaviour, and we can imagine the current issues involving the central and local government finances, nothing is going to emerge either in the short term.
But we have recently seen evidence of 'reversed fly tipping!; not the energetic body building exercise in the gym, this is a strange phenomenon where rubbish is being stolen.
Instead of dumping rubbish somebody is removing it, and it has nowt to do with our litter-picking team, although we are always after new recruits. If you look closely at the image of the recently demolished stone village boundary sign for Skellow you will note the amount of debris is shrinking. Normally we are used to builders rubble being donated in heaps along the verge, but the stone used in the 'Skellow' structure is starting to disappear as people with a 'higher' need are supposedly removing it.
The effect is equally as abhorrent as dumping stuff, for when/if the sign is to be reconstructed half the stone has gone, along with the Skellow lettering. The best that can be done is to recruit a local graffiti artist to spray paint the wording onto the grass.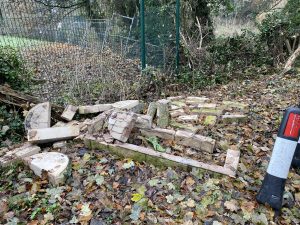 The team of volunteer litter picking have also been patrolling the neighbourhood. Early January a New Year cleanup on Burghwallis Road saw 13 + bags along with the van front, caravan sides and everything else from a garage repair depot, a double mattress covered in black mould, and 5 pairs of new underpants, fastened together with the shop tags etc. We assume they had stolen the wrong size.
Last week we also collected 11 bags on Burghwallis Lane and 12 + bags on Abbe's Walk along with the two car seats that Shaun retrieved of from the ditch using ropes, pulleys and that useful tool on his knife for getting stones out of horses hoofs.
Not sure how many bags were in the pile that Dave reported were dumped at the copse along Grange Lane – however, they were swiftly removed by the DMBC after they were reported so hopefully the bags from yesterdays litter pick have also been collected. No update on DMBC site as yet.
Apart from the normal drink cans and bottles the team note the growing number of empty drug sachets and nitrous oxide gas bottles normally used to whip cream but now used to addle brains.