One of the great blessing the village has is the number of trees that line part of the village and playing field. To keep them healthy they still a need a little care and attention.
Recently the trees along the eastern part of Grange Lane had the ivy removed, a job in the good old days that would befall the DMBC, but as they have already had their own budget and staff pruning and cutbacks so it is time for more local action.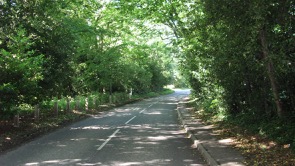 A few years back a suggestion to plant trees along the Western part of Grange Lane was rejected along with concerns that bad people could hide behind the trees. A viewpoint you may or may nor share. But it is a shame the avenue of trees does not stretch for the whole of Grange Lane allowing residents and visitors to reflect in the glory of trees in this age of environmental concerns.
Having had the trees "attacked" along Grange Lane, we decided to tackle those in the Playing Field which are similarly "adorned." In discussion with the contractor, we discovered that there was very little "magic" involved, indeed all you need to do is cut the ivy near ground level and pour some Weedol on the root ends thus exposed. So we have decided to organise a "tree party", where we can practice a bit of DIY ivy reduction. We will be meeting in the Playing Field at 10.00 a.m. on Tuesday 11th June. Any extra pairs of hands would be appreciated.
Speaking of the Playing Field, we have retained the services of a contractor to take down a few dead trees. One, they don't look very pretty, and two, they pose a risk if they were to fall onto the playing area.