Layout updated 31st July
The Picnic in the Park is looming up – 16th August is the date for your diary. But what is in store at this extravaganza?  Park the car in the special Burghwallis pub car park which is being set up in the field behind the pub. You will need to drive through the front car park which is being used for the car boot sale and nip through the side gate into the playing field to join the picnic.  You have the freedom to set up your picnic areas (including gazebos) anywhere in the park that is not reserved. This arrangement is on a first come first served basis so best follow the advice of Billie Jo Spears and "Get your blanket on the ground" before the Germans arrive. The details have now been finalised and irrespective of any weather influence the picnic will include: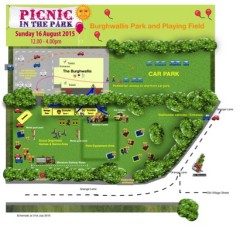 Click here for enlarged view Burghwallis Picnic in the Park Aug 2015
FREE ADMISSION
The Scouts Tent – bring at least two bits of wood to rub together.
Rides on the Miniature Railway – a great hit from last year – the kids enjoyed it too.
A Games and Dance Area – for the talented, energetic and 'Strictly' hopefuls or join in with the Irish Dancers.
Vintage Teas stall – forget the sugar warnings for the day and eat cake.
Ice Cream Vehicle – more sugar but what the heck.
Bouncy Castle – for kids use before a visit to the cake stall or ice cream van and avoid the 'What goes down can also come back up' issues and the use of the fire hose.
D J Tent – for the dancing queens who prefer a bit of noise rather than those silent discos things; music through the ages from the 40's onwards, including a Proms themed finale so come and wave your flag with pride!
Tombola – a sort of posh Bingo with quality prizes.
Raffle – your chance to win a £50 One4all Voucher or a bottle of something you've never heard of that actually tastes great.
Remember to bring your deck chair, blanket and some secret scoff.
Stallholders: There have been a few changes to the layout. Please take a close look at the locations for the following in the image above – click on it to enlarge the size.
Closed entry to the park
Scouts Tent
Miniature Railway
Games and Dance Area
Stall holders and their vehicles
Bouncy Castle
Ice Cream Vehicle
D J Tent / gazebo
Power supply cables /  Generator
Vehicle access