Picnic in the Park – 16 August 2015
Sunday 16 August started at 9.30 for the events committee volunteers. Craig, tasked with protecting the new wild flower beds in the park with quite scary zeal whilst the others erected bunting, flags and the electricity supply.  Soon the bouncy castle was pumped and ready to go and DJ. Michael was installed in the tent kindly set up by the scouts from Squirrel Wood, well would you trust it to anyone else?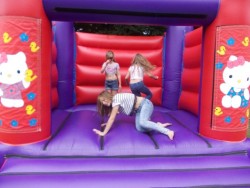 Jimmy & Claire were set ready with a range of children's games and races; everything was going quite smoothly until the model train arrived. This was a tad larger than considered and certainly not going to get into the playing field using the planned route. All hands came to the rescue and the track and train equipment were man – and woman – handled through the gates into the park and assembled on schedule for the start of the picnic at 12 noon. Eat your heart out Network Rail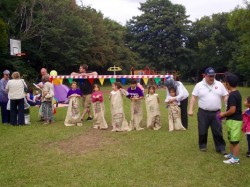 The Tombola stall run by Elaine & Andrew were set,  Vintage Teas hovered, tea bags and their wonderful cakes poised, Colin and his ice cream van duly frozen and the Irish Dancers limbered up ready for the starters gun.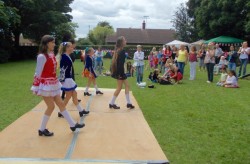 Picnickers entered the playing field to refrains of the Glen Miller orchestra which put them "In the Mood". Out came the blankets, chairs, sandwiches and wine and the unique British picnic atmosphere emerged much enhanced by the event teams decision to pick one of the fee days around that reassembled summer.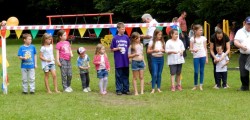 The kids had a great time on the permanent playing field equipment as well as the bouncy castle brought in for the event. With spare energy left they enthusiastically joined the egg and spoon, sack race and sprinting competitions. Splat the rat, battleships and even the good old fashioned coconut shy enticed with prizes galore! The games were only temporarily halted while the Irish Dancers performed their fabulous routines.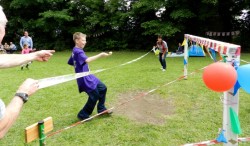 Colin and his model train crew were kept busy all day with train rides to the delight of children of all ages!!! Alex did the rounds selling raffle tickets for the many prizes provided by the Events Committee and  kindly donated by some of our village residents. Most prizes were collected – but we still have three prizes unclaimed for ticket numbers 37, 211, 365 white with orange borders. Please ring Diane on 01302 725998 to collect your prize.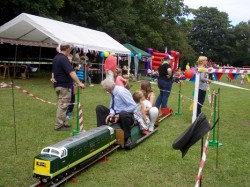 Michael the DJ kept the music flowing with tunes from the 40's and those hoping to escape singing were summarily handed song sheets produced by Diane to end the proceedings. This resulted in a grand finale of singing and flag waving to the approximate tunes of 'Rule Britannia,' 'White Cliffs of Dover', 'Land of Hope and Glory' and 'There will always be an England.'