Warning
: Undefined array key "file" in
/home/burghwallispc/public_html/wp-includes/media.php
on line
1723
Warning
: Undefined array key "file" in
/home/burghwallispc/public_html/wp-includes/media.php
on line
1723
Warning
: Undefined array key "file" in
/home/burghwallispc/public_html/wp-includes/media.php
on line
1723
All living things have a finite life and a magnificent mature beech tree growing in old village street is no exception. A magnificent old tree is having to come down after 175 years. Luckily the other tree in the pair of trees is still healthy
A recent inspection revealed the tree is in terminal decline. Fungal infection has first attacked the roots and has now spread to the trunk. Despite exploring all other options; reducing the height, removing some branches, the inspection by the tree preservation officer indicates the tree will have to be felled. The slightly better news is the second tree of the pair is unaffected.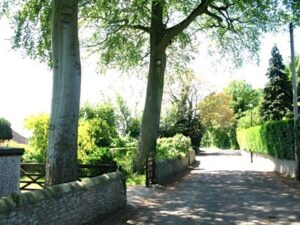 The tree on the left, although looking in good health has a terminal fungus attack. The tree on the right is in good health
All the trees in our conservation area are covered by tree protection orders (TPO). Before any work such as pruning is started permission has to be given by the Trees and Hedgerow Officer to proceed. The DMBC Trees and Hedgerows officer, Tim Bryant, has keeping a close eye on developments and completing further tests before a final decision is taken.
The Beech tree in Old Village Street is one of a pair planted approximately 175 years ago. In an urban setting, where the roots are growing under roadways and building works, they tend to have a shorter lifespan ranging from 150 to 200 years. There have been examples of trees in a woodland setting having reached 300 years old. One of the issues involving beech trees is their tendency to fall over completely at the root ball causing significant damage. This could be the case with this tree especially where the roots have been damaged by the fungal attack.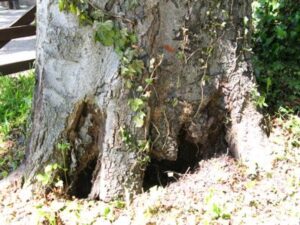 The fungus attack at the base of the trunk
The sad farewell to the tree could therefore be in in the very near future. Although it may last another few years a strong wind could cause it to fall abruptly posing a danger to people and buildings in the area.