Diane's Story, A Eulogy By Rev Ann Walton;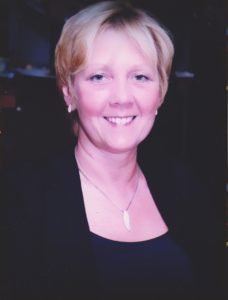 It was an honour to take Diane's funeral and after speaking to her brother, sister in law and nieces, this is the story they told of her life.  Diane had a good life, although it hasn't always been plain sailing; even her birth was not straightforward.  She was born at her Grandma's house on Welfare Road in a power cut and they had to borrow the tilley lamp from the grocer's cart to give light as she was born.  There was no pram ready and so the dolls pram belonging to her cousin Susan was requisitioned for her.  Apparently, she was a restless baby, but a bit of gin on her dummy soon soothed her to sleep.
Diane grew up on Elmwood Avenue with her younger brother Kevin; he remembers she was most definitely the boss from childhood and onwards.  As children, they slept end to end in the same bed and Kevin was the hot water bottle for Diane's aching legs.  However, Kevin got his own back in their teenage years when he embarrassed her by telling a boyfriend of hers to 'behave properly'.
Diane has always enjoyed spending Christmas and New Year with her family; Boxing Day evening was a regular party time when the whole family played games.  One game they played was blind fold guess who and her cousin Gary remembers Diane after a pat down identifying himself as Grandma Dunnill.
Diane's first job was a Wage Clerk for Staveley's, a building firm and this is where she first met Kath, who was her friend and companion for than 30 years.  Diane did not enjoy her job as a Wages Clerk and before long found work as a PA at British Coal, the National Coal Board (NCB) in Doncaster.  She found her forte, she loved the job and thrived.  She was a PA for the Prince's Trust based in Whitley Bridge, Pontefract and Leeds. Diane had been to the Queen's Garden Party and met Prince Charles and Camilla.  She was highly praised in her work and won a staff award.  The tributes on her card when she retired are a wonderful testimony to both the skill and efficiency of her work and the quality of her character.  Diane was a loyal friend and had good long term friendships through her life, meeting most of her friends at work.
In 1985, Diane and Kath decided to buy a house together and they came to live in Burghwallis. They shared much in common, especially a love for dogs and a passion for travelling. Dogs were like family to them both, they have kept many over the years, often giving a home to rescue dogs from the Mayflower Sanctuary. Their latest dogs were a Black Labrador called Flynn (who has since been put to sleep on the 10th January 2020) and a Terrier Tasha. Julia and Alex have been walking the dogs whilst Diane was unwell which she appreciated very much indeed.
Diane and Kath have travelled all around the world including Australia, Canada, Thailand, America, Italy, Greece, Cyprus and so many more places. They also enjoyed horse racing around the world too, highlights were flying to Dubai and to Paris for the Arc de Triomphe as well as meetings on home ground such as Cheltenham.
At home, Diane and Kath enjoyed their garden and home. She enjoyed music and dancing, she loved parties and meals out with friends. Diane was a good cook and enjoyed entertaining.
Diane was the only Aunty to Vicky, Claire and Luke, they have fond memories of their Auntie Diane.  Vicky and Claire remember a special trip to Disneyworld (Luke wasn't yet born).  She was proud to be godmother to Lee and she enjoyed looking after her godson when he was a baby and his parents were at work.  She thought the world of her great nephews Callum, Billy and Charlie and her niece Freya.  Diane was delighted to know another nephew is due soon belonging to Luke.  Diane and Kath used to look after Callum on Mondays when Vicky went back to work and they became very close to him.
An abiding passion for Diane were clothes and shoes. Her first purchase with her first wage was a pair of shoes. Her Dad was amazed at how much she spent on shoes, but he never really knew because she only admitted to half the cost. She was always well dressed.
Diane was a loyal supporter of local businesses and the community, she was a member of the Events Committee for Burghwallis, working with good friends Fay, Adrian and Julia. She organised coffee mornings successfully raising money for MacMillan.
After Kath passed away in 2017, Diane was fortunate to have good family and long term close friends around her, their support when Diane became ill was invaluable. Since her diagnosis, Diane has had a fantastic positive outlook, in July she held a 'Staying Alive' party, she continued to have holidays with her friends and family. In February 2019 she was in Lanzarote with Vicky, Dave and Callum and in September went on a cruise with Beverley. She continued to have meals out with Fay and Adrian and others.
Diane will be remembered as a kind and caring woman, and an excellent organiser. She was a good neighbour and colleague and she played her part in the community. Diane was a beautiful women, generous, positive and brave. She was loved by her family and her friends and she loved you. She will be greatly missed.