The recent national campaign, 'Great Britain Spring Clean' gave Burghwallis a litter clearance opportunity that turned out a little different from previous exercises.
The faithful team of Burghwallis volunteers met on the 2nd of June to clear all the roads leading into the village. On previous exercises it has been quite staggering the amount of litter that had been collected. The record stands at 30 bags of assorted rubbish cleared from Abbe's Walk alone, weighing in at over a tonne by the time you add in the tyres, discarded electrical appliances etc. But on the 2nd of June, the Great British Spring Clean managed, amazingly, to fill only one bag! Perhaps something wonderful had induced the fly tippers and "tossers" to change their dumping habits? But alas no. Behind the scenes, in addition to the team efforts on the day there have been some further hidden heroes routinely walking the lanes around Burghwallis collecting rubbish as they pass.
The team load on the 2nd June was therefore minimised with the lanes looking predominantly clean and tidy. We would like to think the clean appearance may have positively influenced a reduction in tossers antisocial behaviour, but then again pigs might fly. Regrettably the main culprits are still those who dump loads of brick rubble, the dross from bathroom and kitchen renovations and anything else that they want rid of.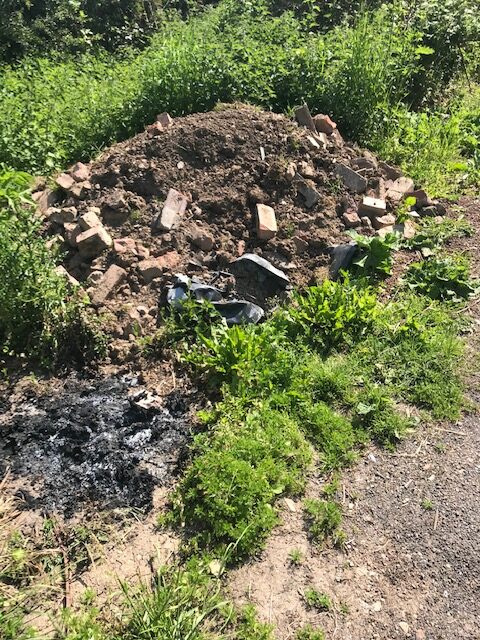 Most people who have been involved in litter picking say it is an enjoyable exercise. You see an instant effect, and prevent the rubbish from cluttering up the countryside and perhaps injuring wildlife. If you are taking a walk along any of the five lanes – perhaps you can take a plastic bag with you and pick up any rubbish you come across. Many hands make light work they say and maybe, just maybe, we can influence the tossers to stop.