Letter from Fr Richard August 2017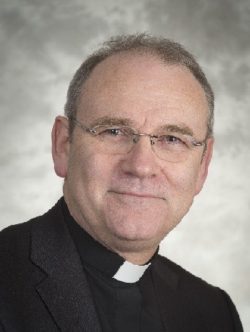 Sometimes life seems to imitate art. You can probably all remember the episode of The Vicar of Dibley where the Revd Geraldine is invited to a series of Christmas dinners by each of her parishioners. Of course, not wanting to offend, she attended all of them. My particular memory is off her trying to stuff sprouts into her already full mouth.
Fr Chris and I had a slightly similar experience when we attended both the Burghwallis Family Fun Day and the Campsall Country Fair which were held on the 16th of July.
I was rather worried that the clash of dates might be a problem but this didn't seem to be the case in that both events proved to be both well-attended and very successful.
As you can see from the photo, Colin Bowes took both clergy for a ride on his model Deltic Diesel (British Rail Class 55) at Squirrel Wood while, later in the day, we were able to bless the refurbished bridge in Campsall Country Park (See Chris's Letter for details).
It was a delight to take part in the Proms in the Park – a particularly encouraging sign was that both events had their own bands! Indeed, the whole day demonstrated to me the strength of our communities and a rediscovery of the importance of village life for which I feel we are truly blessed.
With every blessing
Fr Richard
The Diary of the Vicar's Apprentice.
Well it's been a busy, yet exciting, month for me. Firstly, I would like to thank everyone for the cards, presents and encouraging words on my ordination. The service was wonderful, especially seeing people from both churches, along with family and friends.
After the ordination service there was time for photos, of which there were many, some I hope to find and print out for everyone to see. One of the photos taken of Huw Thomas, Director of Education for the Sheffield Diocese, and myself ended up in the Church Times and I can now say I have been a 'page three' boy in the newspaper.
I was also asked to film an interview for the Diocese. In it I speak of how the first few verses of Ephesians 4 had an impact on my thoughts at the start of my Curacy. Paul talks about his thoughts on starting in leadership, saying,
"I therefore, the prisoner in the Lord, beg you to lead a life worthy of the calling to which you have been called, 2 with all humility and gentleness, with patience, bearing with one another in love, 3 making every effort to maintain the unity of the Spirit in the bond of peace".
These words really helped me set my mind and helped me in my first few days as a curate.
With such a busy ordination weekend, I had booked the Monday and the Tuesday off, for a rest!! However, Revd Richard gave me the wonderful opportunity to go visit the junior and infant schools in Norton, meeting children who were very excited to be going on a school trip. I also saw a master in action, within two minutes of Revd Richard spotting the School dinner trolley, I found myself sat down with Spaghetti Bolognese in the staff room, talking with the teachers.
I also visited a lunch group at The Burghwallis and had a discussion with some German visitors in Burghwallis churchyard.
Tuesday found me co-leading a funeral at Campsall church, a first in my ministry. It was both peaceful and heart-warming to celebrate someone's life in the church, before moving to Pontefract crematorium for the final ceremony.
Having the opportunity to spend those two days in the community really helped me feel that I am now a curate and I thank Richard for his time and forethought.
Since then I have been on a funeral visit and was able to take time off work to lead the funeral and burial at Campsall cemetery, another first. I have spoken at both churches and I am slowly getting used to my new role at the altar. Though you just might still see Richard, myself and servers doing a 'liturgical dance' sometimes, as we figure things out!
I had the opportunity to use one of my gifts from the churches, namely my "aspergillum", according to the Revd Richard; I call it a water sprinkler, when we blessed the bridge at Campsall Park. We managed to visit the Burghwallis and Campsall fetes in the same day, lots of fun to be had and food. With, Revd Richard, again showing his experience, spotting a kitchen selling beef burgers at the Burghwallis event and then I spotted a Jamaican food stall at Campsall Park.
Near the end of my first month we went continental, with an English/Spanish wedding and a Taize service at Burghwallis. Many thanks to those who supported me in these events, especially the choir who pulled it out of the bag once again.
If you read further into Ephesians 4 you will find verses that promote leaving your childishness behind and being more mature in your standing. I will of course need support as I develop this in my ministry, however, 'being myself' through my ministry, I hope, we will also include a few laughs along the way.
God bless,
Fr Chris
If you feel you need another instalment from the diary of the "vicar's apprentice" please let Richard or myself know.