Many people would be intrigued at the strange layout of the parish boundary. Logic and reason seem to have fallen off the edge of the table. We would need a new BBC investigative programme similar to "Who do think you are" this time entitled "What were they thinking".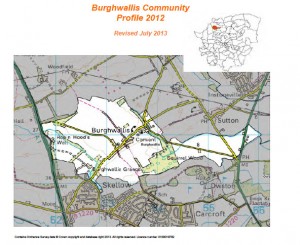 The picture shows that at the South Westerly boundary to extends along the edge of Mill Lane in Skellow taking in the Mill Pond and Skellow Mill. The pedantic of us would observe that although the logical place to plonk the stone Skellow village sign was adjacent to the Mill Pond, it is actually in Burghwallis. So there! and long before our friend Juncker has appeared to stamp his foot and point at any boundary issue.
News from this outreach of the parish boundary is quite busy. Firstly the actual placing of the Skellow sign was more particularly in the middle of a little used entrance to the field behind. Really, somebody wants to get into this "hidden field". Well yes, the owners have leased the field and of course the way in was blocked a few years ago – and no-one spotted it.
But there is some good news in this oversight. By shifting the entrance a tad to the East, to avoid knocking the Skellow sign for six, a new entrance gate could be built. This allowed the gate to adopt current safety features such allowing any vehicle to pull off Grange Lane before unlocking the gate. Without this feature it would have been a nightmare waiting to happen. The smart new gate will allow safer access.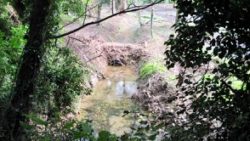 And whilst you stand and marvel at this piece of logic – and luck you will notice the Mill Pond has been drained. A temporary dam has rerouted the stream feeding the pond whilst the pond is cleaned of the substantial build up of silt. It should all be back to normal and look splendid in a couple of months – well before the normal feathered inhabitants of the pond return for the breeding season.