The Burghwallis Christmas tree lighting and carol singing ceremony with a difference – come along to the war memorial at:-
6.30 pm on 10th December.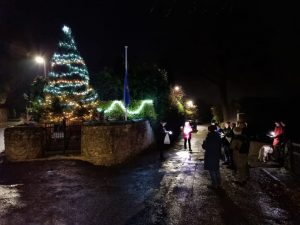 The trend to reduce consumption of electrical energy in communal decorations is to be reflected in the Burghwallis tree. The lights this year will be solar powered. As the name suggests the system relies on the appearance of the sun in its full glory, which is not always the case in mid winter. The coincidence of the winter solstice with its shortest day is going to further test the system. But if the lights behave 'as it says on the tin' we should have some festive glimmer and shimmer and not have to totally rely on your imagination.
The other change is to the mulled wine and mince pies. After several years of gruesome weather, the number of attendees at the event has proven it's not for the faint hearted. Signing carols whilst holding an umbrella in one hand, and a soggy hymn sheet in the other and a mince pie in the mouth has impacted on the level of enthusiasm and clarity of the choral output.
The unpredictable weather can cause the attendance to wane and the unused volume of mulled wine and mince pies to increase. In these straightened times the decision is to avoid waste and abandon the pies and wine. So wrap up warm, bring a brolly and the kids and enjoy a piece of festive cheer and a couple of well known carols – and Father Chris's wonderful jokes!