The annual Burghwallis Fun Day, in Squirrel Wood on 16th July held a record attendance. Queues formed to gain access to the car park which quickly filled to bursting point.
The weather was ideal. And thanks to our national performance at Wimbledon the draw of the men's final failed to diminish the number who turned out for the fun day.
Squirrel Wood Scouts provided some earnest support throughout the event. The range of activities were increased over last year. A surprise hit, according to Di, one of the event organising team was the dog show. Attracting dogs of all shapes and sizes each of the six classes was well subscribed.
Those with a little energy got involved in "weaseling" – indoor caving (before you ask), archery and axe throwing. This last exercise proved trickier than the scouts demonstrated. Clearly our Viking roots at chucking an axe has become a tad rusty.
The races for children were as popular as ever. Favourites such the egg and spoon race never fails to entertain.
Colin was as popular as ever giving rides on his miniature railway. And a hidden benefit for all at the fun day was the chance to see the magnificent grounds of Squirrel Wood
The Irish dancing team proved a hit demonstrating the skills you need way before the Riverdance auditions.
The acrobatics and synchronization of the cheerleaders made their energetic appearance
The number of stands increased this year displaying a range of local produce, bric-a-brac and sponsorship opportunities. Regrettably the much loved 'Vintage Teas' pulled out at the last moment.
The vintage car section unfortunately managed to get lost en route but the cars that did appear brought back memories of the era when cars were built rather than made. The owner of the 1966 Triumph Herald explained the number of people of a certain age who said the car was that they learned to drive in. And before any younger ones scoff, the Herald had a phenomenal turning circle, outdoing a London cab so you could do a U turn in any street in on manoeuvre.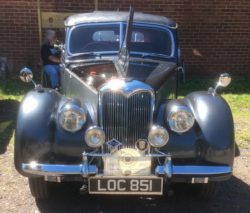 As ever the fire engine proved popular with the kids and the firemen with young Mums. Musical accompaniment was provide by the Swing Band.
Lost, found and recovered. A piece of jewellery found at the event had a happy ending when it was traced back to the owner by the event crew. Also an intriguing sign appeared outside the toilets. Obviously the result of some significant misdemeanors that regrettably prevented the appearance of water pistols. Some of us harboured a secret desire – especially on this hot day……
How did we do? If you have any ideas to improve the Fun Day, or observations about this day please use the comment box below. We would love to hear from you.