A Burghwallis police special constable wins the South Yorkshire Police Sportsman of the Year 2014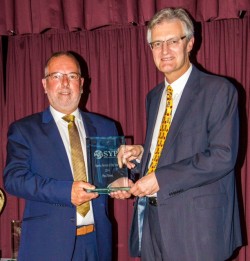 Two residents in Old Village Street Burghwallis, who may at first glance look like ordinary police are actually in the South Yorkshire mounted police division where their  vehicles involve real horsepower and not the mechanical version. Involved in all manner of public order control Paul Brown and his wife Tracey have been in the South Yorkshire mounted police for many years. Although Paul has recently retired and is now a special constable with the mounted police, their joint love of horses extends well beyond the working day through their involvement  in the martial art sport of tent pegging.
Not for the feint hearted this sport involves using a lance to spear a two inch wide piece of wood on the ground using a lance. Sounds easy until you realise you are on a horse travelling at the full gallop, and just to make things interesting you also need to use a sword to collect rings handing from a ribbon, piece several shoulder high targets then draw a pistol to burst balloon targets. Only then do you get to have a cup of tea.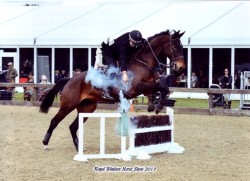 The sport traces back to the middle ages where it was used to train the military in horsemanship. Rider and horse must develop a very close relationship to achieve the coordination needed. Originally the sport was the domain of the military and police forces around the world it has now grown in popularity and attracting civilian recruits.
Paul and Tracy have competed in many national and international competitions. The cost of shipping the horses is offset by hiring local mounts in-country. Something  Hertz or Avis have yet to add to their hire range. The competition horses are pooled by the event organisers and the riders draw their mounts for the competition on a lottery basis – adding a further element of skill required of the rider to control a strange horse.
The following video shows an interview with Paul at the 2015 Royal Windsor horse show and provides a great insight to the world of tent pegging.  Many will remember tent pegging featuring in the annual Royal Tournament at Earls Court. The event is still staged but has moved to Melton Mowbray, where Paul and Tracey have won further awards. But just before you look, and for the sake of marital harmony, Tracey was rather successful at the 2015 Royal Windsor Horse Show in her own right. Here she is en route to helping her team win the Queens Plate, an award presented by HRH herself. Tracey had also been placed several times in this event.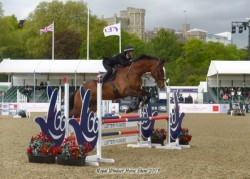 The Ancient art/sport of tent pegging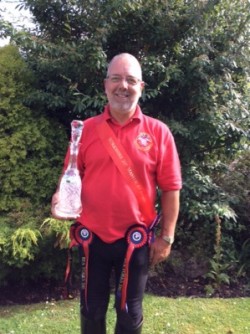 The growing number of awards achieved by Tracey and Paul in  competitions is now overtaking that of the armed forces. Tent pegging practice is critical to maintain performance and there is a suggestion this could be achieved through litter clearing along Abbe's Walk – that could take on whole new dimension.
If you have any news on a resident of Burghwallis who has achieved an award, just moved into the village, or can recall some local history can you let us know.