One of the long standing ex residents of Burghwallis, Shirley Clarkson, has died at the age of 79. Shirley and her husband were well known in the village during the 25 years that the family lived in Home Farm. The house was derelict when they bought it in 1962 and moved into one room, slowly renovating the house room by room as money became available.  The family; husband Eddie, Jeremy aged 4 years and daughter Joanna aged 2 years  finally moved in in 1964.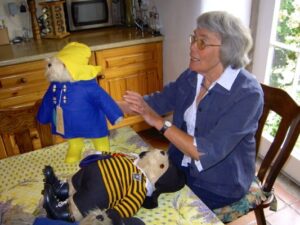 When the renovation of the house was finally completed their hard work was recognised by English Heritage who listed it as a very good example of a Yeoman's farmhouse. During the time Shirley lived here her fabric skills were used to design the main character from the Paddington Bear stories. Designed and made on the kitchen table these were intended as Christmas presents for Joanna and Jeremy, but when their friends saw Paddington they all wanted one. The Paddington story had begun.
Shirley sits at the kitchen table in Home Farm 2008 where Paddington was first made with some examples of the famous bear
The production of Paddington Bear soon the overwhelmed the kitchen and spare bedroom. The Clarkson business expanded into "Park Side" the house next door and then "Old Post Office" the house opposite before moving the production to a factory at Redhouse. The full story was told in a book by Shirley, "Bearly Believable" launched in 2008.
Shirley returned briefly to Home Farm and Burghwallis in June 2008 to film a piece for the BBC TV One Show to coincide with the launch of the book. Her strong will and forceful character required the film producer to change the script at frequent intervals when Shirley decided what he had initially written was "below standard".
The family were keen tennis players and built a court at the bottom of the garden. Shirley was know to play all year round and was once swept the snow from the court for a game one boxing day.
Shirley and Eddie Clarkson finally left Burghwallis in 1987 to move to Tickhill where sadly Eddie died a few years later.