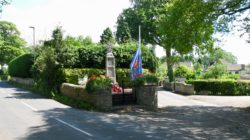 Once again, the village flag was lowered, to mark the passing of John (Jack) Makepeace, of Grange Lane, who passed away 30.5.2018 aged 86.
Jack Makepeace Obituary
Jack was born in Co Durham to his parents John and Maud and where he grew up with his sisters Myra and Maud. Jack's mum died when he was 9 and his dad was a Sgt Major in the Durham Light Infantry but then they moved down to Doncaster. Jack started school in Durham but apparently, when they moved to Doncaster his North Eastern accent was so strong that this made him difficult to understand. Jack left school at 14 to work down the pit. However, this wasn't to his liking and while he was down there he saw a copy of the Farmer's Weekly asking for someone to work on a farm in Cornwall.
Clearly, the outdoor life attracted him and he applied and he was sent his train fare. He was met by a horse and cart at the station which took him to the farm which was rather out in the wilds. It was a hardworking life: each day began with drawing water from the spring then milking over 30 cows by hand before breakfast. After breakfast he would be given a Cornish Pasty which was his lunchtime meal and he would go out spending the day ploughing with horses and doing other farm work. At the end of the day he would return to the farm to milk the cows have and early meal and then off to bed to repeat the process the next day.
Jack did this for a while and then returned home where he was asked, "Where have you been?" He went back down the pit for a while but only long enough for him to buy a motorbike which he then used to tour England – taking jobs as he went along sometimes as a vegetable chef on the South Coast or working in a fairground. He always managed. Eventually he returned to Thurnscoe but one day went to Army recruiting office in Hall Gate in Doncaster. Apparently, his entrance test for the Coldstream Guards was, "How many half-crowns in a pound?" He obviously got this right because he went to train at Pirbright and then served on ceremonial duties at Buckingham Palace, the Tower of London and overseas in Libya. It was in the desert where he had an accident in which he broke both legs. He came out of the army in 1952 – when the old king died!
Jack married June and they had six children: John, Karen, Caroline, Richard, Jennifer and Andrew. The marriage came to an end and they were divorced. Jack met Wendy who was widowed through a mutual friend. They were married on Christmas Day 1981 and they have found great happiness together ever since. Jack worked hard to be a good provider and Wendy helped the family out during the miners' strike.
Wendy told me how they loved going on holiday together and really travelled the world: not only did they tour America, visiting California, Colorado and Canada but also Italy Switzerland, Sicily, Malta, Cyprus, Morocco and Tunisia. They also visited Spain and loved Benidorm especially at Christmas when the weather was warm. They also visited Russia during Communist times where an armed guard threatened them at Lenin's tomb.
Wendy told me the Jack was a very special person. As she said, "When they made him they threw the mould away". He was quiet man but always fun to be with; he loved gardening especially growing tomatoes and golf – playing into his retirement. Jack slowed down a bit with bouts of ill-health and having a heart by-pass but always enjoyed being a loving grandfather and great-grandfather.
Jack's death was sudden and unexpected. Wendy was grateful for the help of an unknown passer-by who cared for them both until the ambulance came. Clearly, Jack has lived a long and full life finding great happiness with Wendy. In this service I shall commend Jack's soul to God's eternal keeping and say the prayer, "Remember for good this your servant Jack as we also remember him." And there is much good to remember in Jack's life: as a loving husband and father; his sense of adventure; his love for his grandchildren and greatgrandchildren; his hard work and his service of his country.
May Jack this day rest in peace and may he rise in glory.
Amen
Fr Richard Walton
A Note from Wendy Makepeace…
I would like to thank all friends and neighbours for their sympathy cards and donations given in memory of my husband Jack. A total of £300 has been divided between charities, one being St Helen's Church. I have found great comfort and help from everyone at this sad time.