The Friends of Askern Railway Station have asked local residents in Burghwallis to join in a survey to entice the reopening of Askern station. By completing the Askern Station Survey form you can indicate your interest in the resurrection of the Askern railway station.
See/ Print Askern Railway Station Survey Closing date for the survey 31st August 2017
In these days of travel overload, cutbacks, jams and deteriorating services, it is heart warming to see a positive move in the opposite direction. The railway line through Askern already exists as does a disused station. The survey is part of programme to re-open the station potentially allowing new access to Pontefract, Leeds, York, Doncaster.
It's a way off yet as these things take time even if it makes highly logical sense in view of the daily log jam that occurs just on the A1. Road transport is set to deteriorate; more vehicles and lower maintenance make poor bedfellows. We are beset with exhaust fumes in towns and anything that can support improved public transport is to be welcomed. But the programme needs your support. Network Rail will decide.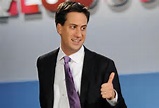 Ed Miliband (MP) and the DMBC are right behind the project.
For further information contact the friends of Askern Railway Station email; askern.station@gmail.com or future updates see 'Friends of Askern Railway Station' Facebook page.
Take a look at the report in the Doncaster Free Press