The Burghwallis village flag is being flow at half mast in recognition of the passing of Kathleen Walters.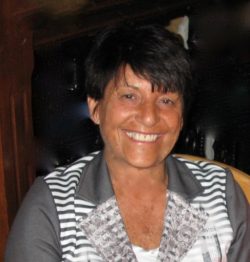 A huge influence in life of the village over many years, Kath served as Chairman of the Parish Council 2013-2017. Her immense enthusiasm for Burghwallis will be remembered by many.
Sermon Preached by Father Richard Walton at the Funeral of Kathleen Lynn Walters
Kathleen was born in Doncaster and grew up at Carcroft where her mum Annie ran the local fish and chip shop. Although she was an only child she was always close to her cousins especially Pauline. I am told that she was something of a Tom Boy when she was growing up; occasionally going AWOL as she got up to mischief. Once when a fire engine was on display she decided to climb up the ladder – later discovering that going up is much easier than coming down. This sense of mischief stayed with Kath throughout her life. She learned to drive before she had a licence and, as Diane told me, she remembered Kath setting the back of her mum's newspaper alight while she was reading it. Although her mum got her own back on one occasion when Kath had sneaked into the local cinema with a boy to see 'Nudists in Paradise' only to get a tap on her shoulder and be told to leave by her mum and aunty whom, she discovered, were sitting in the seats behind her.
Kath didn't really take to school but thrived once she went to Technical College where she trained to be a shorthand typist and where she found her vocation: going to work first at Brewitt's the shopfitters then travelling to Jersey where she worked on the local newspaper. Although the fact of the matter was that Kath was able to turn her hand to anything, showing the adaptability and can-do attitude that has always characterised her life. When Kath returned from Jersey she went to FPA Staveley which was where she met Diane who has been her lifelong friend and companion for the last 32 years.
Diane told me about Kath's many passions: for Elvis of course but also for dogs and horses. Together Diane and Kath have travelled around the world visiting every continent. To Memphis, Tennessee to visit Graceland -naturally- but also often to see the major spectacles of horseracing. Kath particularly loved the Dubai World Cup where she saw behind the scenes at the stud but also visiting Longchamps and Kentucky with Aunty Clara and Aunty Irene. Kath loved to see the thoroughbreds of racing especially Frankel and Desert Orchid but she also saw Red Rum in training at Southport.
Kath also loved to watch tennis. Apparently during the recent fun-day she went AWOL for a time to get back home to watch the Wimbledon final – a place she had fond memories of visiting with her friends.
It is clear that Kath never stood still – she retrained later in computing at Leeds although she also worked in an ice cream van which, not surprisingly, gave her access to race courses around the region. When she had her interview with Tunstalls she had to park the van around the back before going in! The 28 years she spent at Tunstalls have been a time of both happiness and success. She made many friends but also rose to become head of the Training Department working in the UK, Australia, the US and New Zealand – she was very well respected, always known as a reliable worker. But more than this, through that daily contact she touched many lives and was a rock to many because she knew how to speak her mind and how to put things right.
Of course, my contact with Kath has been through her deep commitment to this village. Through the hands-on way in which she was determined to build it up as a community. In her time as Chair and Vice Chair of the Parish Council she was instrumental in progressing the neighbourhood plan and was a driving force in organising the village flag, the signs, the litter pick and so much else. Clearly, Kath was not just a talker but someone who put energy and passion into all she did.
Sir Christopher Wren's epitaph in St Paul's says, Lector, si monumentum requiris, circumspice. (Reader, if you seek his monument look around you) The same could be said of Kath since her memorial is written in the very fabric of this village.
The Christian hope is that death is not the end, in Jesus, God became like us so that we might be like him. Jesus died and rose again so that when we die we might rise again. In this service I say the prayer, 'remember for good this your servant Kath as we also remember her' – it is a prayer that God will remember the best in us. In Kath, we have a woman of passion and commitment who loved those dear to her and who served this community for many years. May Kath this day rest in peace and rise in glory.
Amen
Comment from Dave Maxwell, Chairman of the Burghwallis Parish Council:
Kath will be a significant loss to the people of the village. Over the years Kath was a mainstay in the various activities that helps a village like ours to thrive. In these days of economic constraints on the DMBC, her talent in motivating villagers to 'man the pumps' was very evident, and teams of volunteers , some from outside Burghwallis, could regularly be seen picking litter, trimming hedgerows and clearing the churchyard. Beyond the village maintenance Kath also brought her vision for the future into play. The success of the Neighbourhood Plan which took significant determination to achieve, ensures the look and feel of the community will be maintained. This along with the many other achievements will serve as a lasting legacy to her memory.
It seems like we are entering a new era in the village. Our challenge now is to maintain the level of enthusiasm that Kath brought to the Parish Council (and others) and to build on the work that she so selflessly carried out for the benefit of the whole community. She will be sorely missed by family, friends and all whose lives were touched by her.
http://www.burghwallis.org.uk/blog/burghwallis-local-heroes-2016/