The  4th August 2014 recognised  the centenary of the start of the First World War; "the war to end all wars". The whole country bore the tragic scars of the vast number of men who were lost including the small village of Burghwallis The names of seven men  lost in the 1914 to 1918 war whose names appear on the war memorial and in St Helen's church have been researched by local historians Irene Tenbirth-Smith and Margaret Burns who  unearthed some details of these courageous men:-
Harold Scurrah
Arthur Sayles
Crathorne Anne
Arthur Drake
 Joseph Duggan
George Atkinson
Ernest Crisp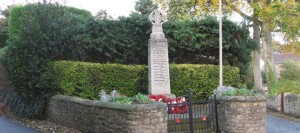 Pte. Harold Scurrah. Kings Own Yorkshire Light Infantry  (KOYLI)
Son of William and Margaret Scurrah of Burghwallis, Village blacksmith. Killed in action France and Flanders 24th September 1925 aged 23. Remembered on the Menin Gate memorial, Ypers, West Flanders, Belgium.
Pte. George Atkinson, 20th Company Labour Corps.
Died 17th April 1918 aged 40. Remembered with honour at the Tyne Cot Cemetery
"He whom this scroll commemorates was numbered amongst those who, at the call of King and Country, left all that was dear to them, endured hardness, faced danger and finally passed out of the sight of men by the path of duty and self sacrifice, giving up their own lives that others may live in freedom. Let others who come after see to it that his name be not forgotten."   
The Atkinson family originally lived at No 2 Park View, Burghwallis and the Newtons (my grandparents) lived at No 1. They were great friends and George worked for the Anne family, first as a coachman and later as a gardener. When he married Susannah, Major Anne gave him a silver tea set for a wedding present engraved "to G.A. from G.A." as their initials were the same, and that is still a treasured possession.
When George joined the army Mrs Atkinson moved to Norton, the main reason being that when he came home on leave, he could easily walk home from Askern Station.
The following piece of family history, is included as  it helps us to realise what life in Burghwallis was like in those days.
The families always kept in touch and Mrs Atkinson and daughter Hilda could travel from Norton to Burghwallis for 6d on the Carrier's Cart. He made a regular trip to Doncaster on Market Day bringing goods back for people, and he then took them home on his way back in the afternoon. Hilda was married in Burghwallis Church and called her daughter Helen, who when the time came was also married here. She has loaned us a copy of George Atkinson's photograph and other documents for our display in church on 3rd August. Her parents' ashes are in our churchyard.
Pte. Arthur Sayles. K.O.Y.L.I.
Son of Thomas and Mary Sayles of Adwick le Street. Husband of Florence May ( formerly Jarvis) of Burghwallis. Died 6th May 1917 aged 36. Remembered at Orchard Dump Cemetery, Arloux En Gohelle, Pas De Calais.
Mrs Arthur Sayles of Hill Crest Burghwallis received the sad intelligence that her husband Pte. Arthur Sales K.O.Y.L.I. was killed in action on May 6th 1917. In a letter to the widow, Captain Chadwick says "He was killed instantly by a shell whilst going to work, and the company is poorer by the loss of a good specimen of an English gentleman – a quiet, well-conducted soldier who could always be depended on to do his duty and share of work. Such men re indeed a loss not only to the battalion but to their country, and it will be some consolation to know he will be missed by his officers and comrades."
Private Sales, prior to enlisting, worked at Brodsworth colliery and was one of the men who assisted in turning the first sod when the pit was sunk. He joined up early in the war, as served some months in Egypt.
Mrs Sayles, who is left with one daughter, has received a letter from Pte Gough, a comrade of the deceased, in which he informs her that a cross has been erected over his grave on which the lads of his company, place fresh flowers every day.
Mrs Sayles, has also just lost a brother in action, and has five other brothers serving with the colours. Her mother and sister were also in a train bombed during the recent air raid. ( Doncaster Gazette Friday 22nd June  1917.
Pte. Robert Trentham K.O.Y.L.I.
Killed in action France and Flanders 8th July 1917 aged 27 years.
Buried at Coxyde Milatary Cemetary, Belgium.
Joseph Duggan.
Scant details are currently known about Joseph. He was working in Denaby on the 1911 census but must have been living in Burghwallis at the time of his war service. His occupation is listed as "Coal Miner"
Alfred Drake.
No information has been currently found on local records. He may have been a relative of someone living in Burghwallis.
Crathorne Edward Isham Charlton Anne. Major Royal Flying Corp
Died 5th April 1917
Youngest son of Major Ernest Anne of Burghwallis Hall and his wife Edith. He was given a commission in the 6th King's Own Yorkshire Light Infantry early in September 1914. Transferred to the R.F.C. in the late autumn and trained at Netheravon as a pilot; flew to France in the following spring, where he did valuable reconnaissance work over the enemy's lines for many weeks, until an accident, owing to engine failure, necessitated an operation to his nose and he returned to England. After a short time he assumed post of Instructor in flying, and later, at Oxford rose to be Chief Instructor of Military Auronautics. being mentioned in despatches for his excellent work there.
For over 6 months he had practically sole charge of the technical branch of the school at Oxford, and had the honour of showing HM King George, to whom he was presented, over his part of the work. As a reward for the excellency of hiswork, he was appointed Chief Instruc­tor of Military Auronautics to a school in Egypt and was on his way to take up his post, on HM Transport Ship "Arcadian" when she was sunk by a torpedo in the Aegean Sea. From the moment the Ship was struck Major Anne's only thought was for the men under his charge thinking nothing of his own safety and, according to eye witnes­ses his fearless devotion to duty resulted in the saving of many lives. He went down with the ship and was a second time mentioned in despatches Crathorne E. I. C. Anne. for his gallant and distinguished service.
His late Commandant Col. C. Saunders, DSO wrote : "He was such an excellent instructor and I always had such absolute confidence in him at…the school at Oxford, that his loss is very great to the R.F.C., and his loss to his friends – he had no enemies – will be felt most sincerely. He was such a splendid organiser and absolutely reliable, and he never allowed anything to interfere with his work – a most gallant man." And a distinguished General: – "I expected him to rise to great heights, for he had brilliant and exceptional capabilities. He married at St Mary's Church, Cadogan Place, London 6th July 1916, Annie Charlotte Helen, only daughter of the late Alexander Mill of Edinburgh.
Quoted from De Ruvigny 's Roll on Honour 1914 – 1924
War memorial in Saint Helen's Church