The renovation of the pinfold approaches completion. An energetic team of volunteers finished the latest stage on Saturday 27th June 2015. The grass area to the lower section around the spring is showing signs of new growth. No easy task as the area is in shade for most of the day, but it is green and growing in the direction of up.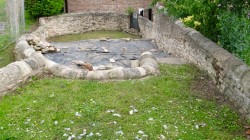 The well cover is complete and the wooden lid neatly hides the remains of the well shaft. Although no longer operational being mostly filled in with debris it provides a clear indication as to the dimensions of the well and, as yet, to catch any coins tossed in for good luck. Perhaps we need to spin a piece of folk lore as to its "lucky features".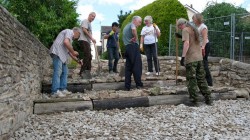 The next step was to fill the top section around the well head with green slate chips. These were laid onto the weed-proof mat that had been laid to keep weeds in check. The slate will keep the mat in place as well as providing the finishing touch to the overall appearance of the pinfold.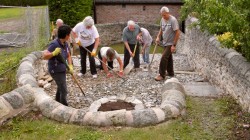 Ongoing, the care and maintenance of the pinfold falls to the Burghwallis Parish Council. If you would like to help to keep the site tidy please contact the parish council secretary by email or leave a comment below. In the meantime rumour has it if you chuck a £1 coin into the well England will win the Ashes. It's all down to you then…